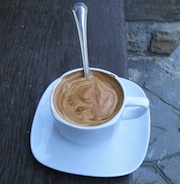 Ah, the buy Vincent a coffee page… The totally no obligation, feel good helping someone else out page. The make dreams come true… Okay, maybe it's not that dramatic.
If you feel like I deserve a pat on the back then you can show your support by sending me some coffee money. I often find myself in a Starbucks or a Coffee Bean when I'm writing, so it seems appropriate.
You won't get any magical, exclusive content for donating. If you want to buy me a coffee then it's because you feel like I deserve it.  The best I can do is send you my sincere thanks (and perhaps a picture of me smiling with a drink in hand that I bought using your donation.)
Here are some things I'd probably use the money on if you decide to donate:
Drinks at Starbucks, Coffee Bean, and any other coffee shops I frequent. 

These coffee shops are where I get my best work done!

Pay for web hosting and other Self Stairway expenses. Current monthly expenses (not counting coffee): $20/month on web hosting, $5/month for my @selfstairway.com email address,) $2/month on RSS Feedblitz, and $50/month on aWeber, my email list provider.
Food. What can I say? I'm a skinny guy.
Anyway, I'd just like to let you know the option is there to donate any amount you'd like.

Thank you so much for reading and for supporting my writing! You're greatly appreciated. 🙂