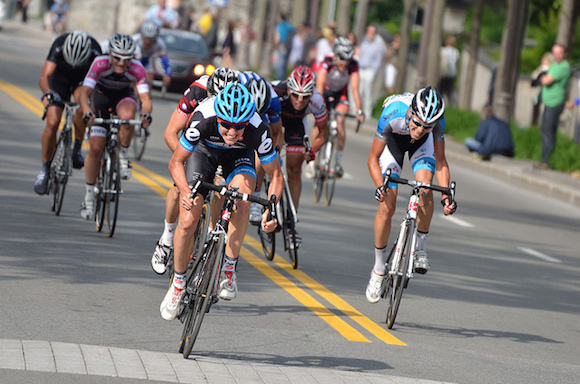 It's easy to get to first place when you're still hyped up on adrenaline.
When things are new and sexy still, you can rely on pure passion and excitement to keep you going.
But once you're ahead of the curve and leading the pack, you get comfortable and start lowering your guard.
You stop pushing yourself to put in the extra effort, which is what got you there in the first place.
You start becoming complacent.
It's not getting ahead of the curve that's the tough part. Staying there is where you'll find the most difficult challenges.
You begin having days where you don't feel like doing anything.
After all, do you really have to? You're already ahead, right? Why keep going at full capacity?
Well, you've got to keep pushing yourself for one simple reason: the next person is working just as hard as you started, aiming to take your place as #1.
There are people out there right now who are working twice as hard, or even 10 times as hard, to surpass you.
They're fueled by the same passion that got you to your throne and they're not going to stop.
When I first started Growth Ninja, I felt like I was struck by an infinite supply of passion and determination. I was, fortunately, making progress nearly right out of the gate and things were good.
A friend of mine also started his own business around the same timeframe. In a lot of ways, he was my rival and benchmark for my own performance.
For some time, I was ahead of him. My name was spreading further and wider. My income was growing at a faster pace.
My business even managed to get to the coveted five-figures a month mark before his business did.
Then… I got comfortable. I stopped running at full speed.
And while I was slowing down ever so slightly, he only increased his pace. He pumped his arms faster and faster. He took longer strides and kept his focus.
Surely enough, he outlapped me. His business is now bringing in nearly double what mine is each month (despite the fact that mine is still growing month-to-month).
But it's not only because I slowed down. It's because he kept running faster and faster, regardless of how well he was doing.
He has that kind of determination that gets him ahead of the curve and allows him to stay there with several laps further than the rest of us.
We all need that same sort of drive if we want to be great. If we want to lead and not follow behind the leader.
What're you and I doing to get ahead of the curve and stay there forever?