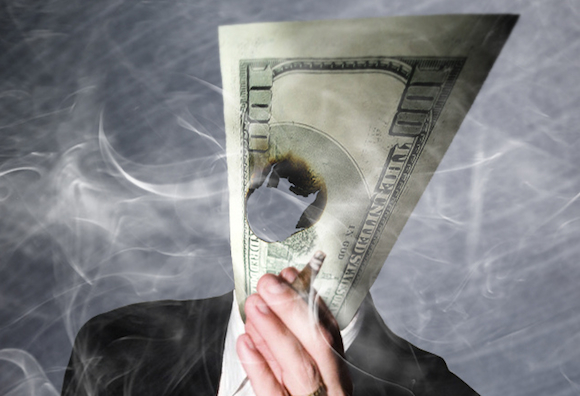 Never before have I felt so afraid of hitting Publish. I think some people will find this piece condescending. Others will find it overly dramatic. Maybe a small percentage will even be offended. I don't know, but I've never hidden anything from my readers before. Here it goes.

When you reach a certain point of success at a young age, you realize typical days don't exist.
It's a concept most college students and non-entrepreneurial folks can't visualize. Days are supposed to be structured and identical to the next.
Sure, there are routines and the like, but most days aren't as similar as you'd imagine. So you start making up generic statements that don't accurately reflect what you do. When they ask what sort of field you're in then you just go with whatever umbrella would be easiest to nod your head to.

It gets lonely.
It doesn't always feel that way, but when it hits. Damn. When you can rarely talk about yourself you sort of go crazy. You avoid it for several reasons. You don't want anyone to feel bad and compare themselves to you. You also don't know where the line between boasting and informing is. Sometimes it's just difficult to explain anyway.
What usually happens if someone asks you, "what did you do today?", is you wind up speechless because A) you don't remember since you did so much, B) you know it'd take way too much explaining, or C) you can't describe what you do without the other person having prior knowledge on the subject.
Telling someone you talked to (insert influential name in your niche here) means nothing to the average person, even though you know just how big of a deal it was. They're only excited when you explain that the person you just worked with is the CEO of this and that, or makes this much money a year.
People ask, "What do you do?" and you find yourself at a loss for words. You try to avoid using jargon, but some things are almost impossible to explain from scratch. Sure, you may have a solid elevator pitch that works for business people, but you occasionally have to tune it down even further.
Neil Patel says, "I don't explain at all. I just tell people I work for Microsoft. It is a lie, which isn't good, but that is easier to say than to explain what I do."
What does Neil really do? He has co-founded KISSmetrics and CrazyEgg, two companies that generate a ton of annual revenue. He's an angel investor, an internet marketing guru, an awesome guy who loves helping other people, and about 1,000 other things. How would he explain what he does?

When what you do is complicated you know you only have a few seconds before you lose their interest. So you end up being vague or downplaying what you do.
It's funny because I pride myself in conciseness and my ability to simplify. For whatever reason, I lose this power when I talk about myself.
You start to feel isolated around people who don't see things the same way you do or understand the lifestyle. People who aren't as driven and are going for more traditional routes begin to seem like outsiders to you. In reality, you're the alien looking in. You're an intruder with all these foreign ideas that threaten what they believe as dogma.
Would I consider myself successful?
Yes, I would. I'm not a millionaire–hell, I haven't even made very much money since most of the work I focus on I do free–but I consider myself successful because I'm able to do the things I want and live my ideal lifestyle, all without having to worry about bills. I'm fortunate.
Here's the part where you should be thinking, "Oh, don't be so dramatic! Most jobs have technicalities that are difficult to explain! I bet you my job can be tough to talk about too, but you don't see me getting dramatic. Just be glad you have what you do."
To that, I would smile and nod. I'm ranting more about the lifestyle. Explaining what the job is just a front to avoid having to talk about the behind-the-scenes (which is even more complicated.)
Am I a writer? Sort of… Okay, yeah, but that's not all.
Is writing part of my typical day? Definitely, but it doesn't take as much from each day as you'd think. I don't sit hunched over a keyboard 24/7 typing away. If anything, I sometimes write less than an hour a day. Sometimes the writing isn't even what you think it is. There's copywriting, casual blogging, and even pitching emails.
Some days I'm connecting with tons of people. Even that gets complicated.
There's planting seeds. There's introducing people who can benefit from one another. There is strategic planning to figure out how to reach out to a busy influencer. Finally, there's getting back to people who are trying to connect with me. The most fun part is meeting up in person with like-minded people.
Connecting is a full-time job in itself.
It's how I met people like Joshua Becker for coffee. It's also how I was able to connect him with two people he needed during our hour and a half together while we were just casually hanging out.
Plus, being a connector is how I managed to get the support of various millionaires. It's how I became friends with Neil Patel (who I just talked about earlier) and why I am now helping him with his newest project. Okay, I'll be honest, this paragraph was sort of boastful, but I rarely get the chance to do that.
Then there are days where I'm figuring out how to get conversions up. Psychology. Running tests. Comparing data. Oh man, the list goes on for this whole "numbers" thing.
Just last week I was finally able to sum up what I do in three sentences. It's still a bit vague and of course requires a lot of expansion, but it gets the job done.
"I find creative ways to jumpstart an online presence, whether it's for a company or individual. Most of it is through using analytics and tracking what works against things that don't. A lot of writing."
For someone who has more background knowledge I'd say, "I'm somewhat of a growth hacker. I use all my knowledge in SEO, CRO, copywriting, human psychology, and overall my own creativity to figure out how to approach expanding an online brand."

Catch your breath. That was a lengthy one. It's rare that I would be able to say the second sentence to people my age. Who knows? Maybe it's because I'm still young. After all, there are a lot of people who I'm able to speak "business-y" to that get it. I am grateful for such access.
Still, the fact that most people around me can't fathom the idea of a life outside of the college path is discouraging. They can't imagine waking up every morning excited to work. We think on different planes. They also can't imagine so much flexibility. Wasn't work supposed to be dreadful?
Passion becomes an arbitrary term for a lot of people.
They think it's just bullshit others spout to motivate, like it's something saved for the Hollywood biopics and entrepreneurs who "got lucky."
They'd listen to something like Steve Jobs' commencement address and say "Bravo, he's rich and successful. That's the only reason he got away with saying all that nonsense."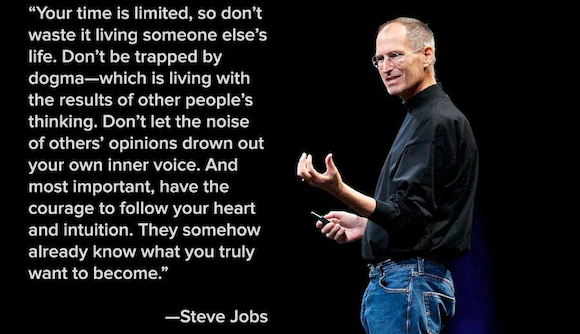 Let me tell you, passion is very real and making it work is viable (assuming your passion isn't virtually worthless to the world.)
It makes getting up each morning easier and labor becomes something done out of self-enjoyment. I can't tell you how to find yours, but all I can say is don't ignore it if you have a gut feeling.
How could I possibly explain any of this to my friends? My family? How could I tell that to anyone outside of the way of thinking? Playing it safe and by a formula is too engrained in the majority's minds.
I sometimes feel more at home when I'm with my entrepreneurial buddies who share the same pains.
They get it. They look at things from different angles. As a result, they feel the same isolation and frustration.
Last week, I gave a presentation in class on the "The Upper Upper Class." Most of it was impromptu, but I discussed how life exists outside of college. I showed them how the "New Rich" thought outside the box and how they could use multiple income streams, many of them automated. How they could never accept the social norm.
I wonder how many people left that classroom questioning whether they're onto something amazing. I wanted them to think and relate on an emotional level. Even though it was impromptu, I was passionate and got really into it. Will they ever know that feeling?
My heart skips a beat when I meet someone my age who shares the same visions as I do, or at least is aware of the possibilities. It's so rare that it's becoming painful for someone like me. No one knows it, nor can they see it, but I'm an outsider.
I often try to avoid talking about my accomplishments these days because I'm afraid that people will feel small compared to me.
"What did you do today?" "You know, stuff."
I don't want anyone to feel bad. I only offer glimpses when my friends pry and insist. If casually asked, I'll downplay what I've been doing. Hell, I think only a small percent of my close friends know I may be out of the country for almost a year (assuming all goes according to plan.)
I'd say the biggest reason I feel isolated is because of my family. None of them would understand any of this. I tried to make them understand a long time ago, but I've given up. Sadly enough, there is only one person in my family who knows a single thing that I am doing.
I've tested the waters on occasion and still am not seeing any use.
Yet, I have so much proof. Things I can show them to make them say, "Wow, you're doing amazing things." I don't think I ever will though. I'm waiting until the day they Google my name. At least then, they'll see a small percentage of what I do. For some reason, I don't want them to know. Maybe I'm afraid.

If I were to tell them my website has been around for half a year and gets thousands of visitors from Google monthly, would they understand the complexity of that? They don't even know about the whole leaving the country thing.
So every day, I smile and blend in. On occasion I will briefly offer a preview into my life. As for the majority, I'll answer, "What have you been up to?" with "Nothing much, you?"
Don't get me wrong, I love my life right now. But it's the little things that catch up to you. Mark Manson describes the downside of living the "digital nomad" lifestyle very well and his article really hit me hard.
Obviously, it is much better than poverty and I hope none of you guys are struggling, but I'm wondering where that happy middle is. Well, I'm just one guy speaking from his perspective.
Sometimes I feel like a fraud.
Like I don't deserve all these great things or that I'm not good at what I do. They call it the impostor syndrome and it's something a lot of wildly successful entrepreneurs struggle with.
Jason Cohen, founder of WPEngine and Smart Bear, talks about how he uses it constructively. "I doubt my title as 'expert,' so every day I read, write, and immerse myself in my field." That's what I'm doing every day.
Andy Wibbels sums it up well, "If I don't feel like a fraud at least once a day then I'm not reaching far enough. If you aren't scared shitless then why bother?"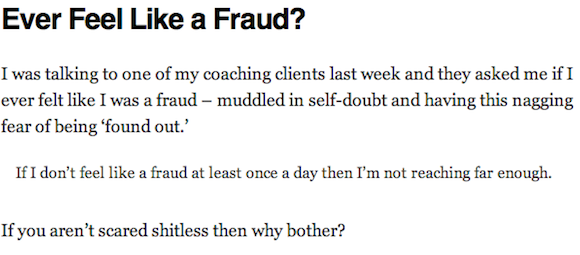 But I can see how this daily fear can crush some people, especially those who haven't found validation in years. We all need someone to tell us we're good enough.
Maybe I'm just a whiny and lucky kid who has his head up his rear. I've said it before and I'll say it again. Success doesn't automatically make you happy. There's so much more to it.
What do you think? Are the downsides of success real or just imaginary?
Let me know in the comments.
Photo Credit: Flickr by Truthout.org