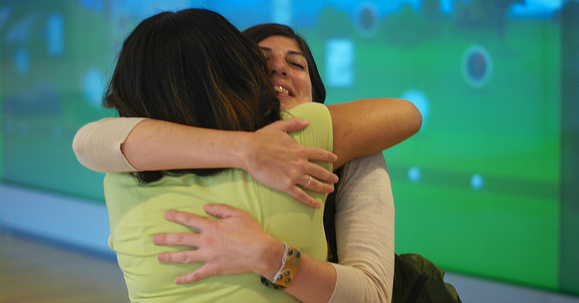 Nothing is worse than when someone feels sorry for themselves and they keep fabricating excuses as to why they can't do something amazing.
"I could never do that! I'm not as ______ as you." Bull. Freaking. Crap.
"I don't have time." America's worst lie.
"I don't know how." Then learn.
There I said it. I said it all and it's out in the open. No takesy backsy (that's right, I just went kindergarten on you.)
Hey, I get it. It's terrifying jumping into the unknown and taking risks.
If you're afraid then admit it. Stop beating around the bush and trying to cover your own ass with some flimsy excuse. No one is buying it.
The majority of the excuse generators are young people who have nothing to lose and nothing tying them down. Some people are genuinely bogged down by responsibilities so they're more easily forgiven. But what about the rest of us?
I had a vision two years ago and for whatever reason, I was motivated as all hell that day. I shared vague details with my family and told them pieces of it to gauge how much support I'd get from them.
The responsive support was an overwhelming zero. If I recall correctly, there was some laughter at my expense.
The plans I told them were the blueprints for the website you're on right now. That day was the first time a surge of motivation came over me that made me want something more than my body naturally wanted to breathe.
All my life I was known as the guy who slacked off.
The one without goals. The guy who only knew how to get through each day without looking ahead.
I'm not too surprised that my vision two years ago wasn't taken seriously. I couldn't take myself seriously. Hell, I used to be one of the people I described in the very first line of this article.
But looking to where I am now I can proudly say that the blueprint I made two years ago was the beginning of an incredible journey. I was onto something amazing at that moment and even though it took a bit more time than expected, good things came out of it.
Was I terrified? You bet. That's why I waited so long to start. I knew I wanted it more than anything but I was afraid.
I still remember thinking about it almost every night as I showered. I remember looking at the tub floor dreaming about all the interesting things I could be doing. My heart would tug a little at the very thought.
This post marks the 50th published article on Self Stairway and our eighth monthiversary. January 23, 2013 was the day I dived in with both feet and said, "Screw it. I'm going to change the world and make shit happen." It was the day when I had ran out of excuses and made that bathtub dream a reality.
Last week both the email list and Twitter account hit over 1,000 each. In fact, the email list surpassed the 1,000 mark by another hundred since the time of writing this.
In the past year, I've written for websites that get millions of views per month, been interviewed by entrepreneurs, worked as an intern for three companies, and I've reached out to millionaires and got their support as I chased after my dream job (just heard back that I got it!) I've become a leader and an inspiration for people I may never meet all across the globe (I hope.)
All of these things could have stayed as dreams if I had decided to ignore my vision.
That means my effect on the world would have been erased. The connected dots would cease to exist.
I never would have had the pleasure to experience any of this if I had given up before step one. That's why inaction scares me more than failure.
You don't need to have support to make shit happen. It helps, but it's not a requirement.
You don't need to be brilliant. The stroke of genius can come to anyone.
You don't need an infinite amount of time. All you need is a minute of your day.
You don't need to be talented, or at least not at this exact moment as you can always be learning. Refine your craft every day and you will look back amazed with what you've created.
Do you think I have it easy because I'm some sort of fearless cyborg?
Hell no.
Last Saturday I had to present in a room filled with MBAs, alumni, and entrepreneurs who run huge businesses. I was the youngest one there and I didn't even attend the university this event was being held at. They probably didn't even know that I don't own a business, that I attend a community college, and that I was only 19.
My body was numb, my heart was racing faster and harder than it has in a long time, and I wasn't sure if I was red or not. My hands were shaking just thinking about it.
Guess how I did in this high-pressure environment filled with great expectations?
Are you expecting a happy ending where I went up and gave the best delivery ever despite my crippling fear? Was the whole audience cheering, applauding my efforts? Nope, I did a pretty bad job.
I didn't want to go because I knew it'd be way out of my league, but I went anyway. Even though I stumbled and executed poorly (in my opinion,) I am so glad I went. I stepped outside my comfort zone and walked away with something new to learn. That's what you need to do when the opportunity presents itself.
It was a great reality check and I did it because I accepted the fact that I was afraid. Someone else may have said "I don't want to go anyway," or they would let the fear get to them and start running the opposite direction. I looked at it as a chance to grow and humble myself.
What you need to do right now is stop believing your own bullcrap excuses and stories. Start admitting that you're afraid and you'll be further ahead than you were yesterday. When your heart is beating, hurting, and aching because you're so freaking scared it means you're onto something that will make you grow by the end of it.
Picture a life where you go for it and reap all the rewards. Make goals that you want to achieve more than your body wants to breathe. Dream big, so big that you can't not do it.
There are three months left before 2014 begins.
The beginning of 2013 was the beginning of an amazing chapter in my life story.
My plead to you today is to do something crazy. Get out there and start changing the world, or at least your world. You can be a lot further than you are now and I want you to make it happen before 2014 comes.
You think you could never do what I've done? That's bull-freaking-shit and you know it. I remember how difficult it was to go after something so unknown, but I swear, I swear, you'll thank yourself for it when it's all done.
Do you want to know why you haven't gotten anything done yet? It's because you keep reading articles like this one, but you never bother to get out and apply.
Stop making excuses and make shit happen. You never know how many lives you'll touch.
You already know how to change the world. You just haven't done it yet.
What's stopping you from making your dreams a reality?
Photo Credits: Ted Eytan, Flickr