"The only person who is truly holding you back is you. No more excuses, it's time to change. It's time to live life at a new level."
-Tony Robbins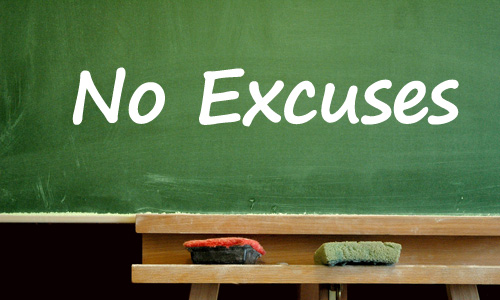 I still cannot believe this past month. My life just took off and it has only been improving as tons of new opportunities and doors are flying open for me. All of this happened because I ran out of excuses for myself.
I wanted to start Self Stairway back in 2011 and I kept giving myself excuses. Maybe there would be too much research involved. Maybe it wouldn't go anywhere and I would be wasting my time. Besides, I was a college student so I figured I'd have better things to do. Does any of this sound familiar to you or any situation that you're in?
All of these excuses just kept coming until I convinced myself it wasn't worth the risk of failure. I was a fool over one month ago.
No More Excuses
My favorite excuse was always money. It'd cost too much to pay for the domain and hosting per month, or at least that's what I'd tell myself. Then one magical day, Dreamhost had an offer for new customers that advertised $20 for an entire year of web hosting plus a very small fee for domain registration. At that point, my heart sank as I ran out of excuses. I tried to come up with more but I knew I couldn't. I had to take the first leap of faith.
I could no longer say it was out of my budget; there were no more monetary barriers involved in starting the blog. So there I was, having to dive head first into the unknown.
The Results
I dedicated hours and hours of research, maintenance, fine-tuning, and building connections. There were no more excuses holding me back from starting something real, so I took off with a full sprint.
You know what? Now I'm happier and busier than I have been in an incredibly long time. The website is doing great and my resume is filling itself up as I am learning desirable skills that people gladly PAY me to do. They want to pay me to do the things I love doing and using skills that I've taught myself in a few weeks' time. They gladly offer me benefits and take me in as their own to hone my skills, all thanks to this site. They're not paying me to make excuses, they're paying me due to the fruits of my labor and because I had ran out of excuses.
In recent weeks, I've met professionals in the field of marketing, business, web design, and several others. I've had phone conversations with people who have made money doing what they love for years and they GLADLY passed on what they learned to me, an aspiring college student with tons of directions ready to take.
From all of this, I learned that excuses are the devil.
Who knows what you can achieve if you don't even give what you want to do a chance? Stop making excuses for yourself about why you can't do something. Stop making excuses and delaying your passion, goal, whatever you want to call it.
Questions: So what is limiting you? What are the excuses in your life holding you back? Once that wall comes down and you realize there's no more excuses, are you going to take action?