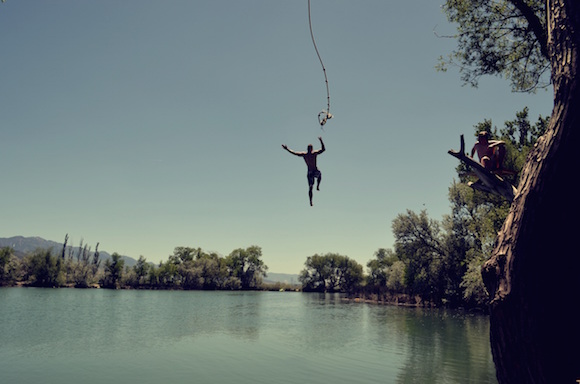 How many people do you think just vowed to never visit my website again because I put a "bad" word in the headline?
Actually, scratch that. I don't care.
Something as inconsequential as an internet stranger being offended by "fuck" doesn't deserve more than a couple seconds of acknowledgement in my head.
See that? That's me being selective with the amount of fucks I decide to give to any particular situation (or rhetorical person in this case).
Typically, though, I worry too much.
I'm an anxious dude.
I'll overthink and overanalyze everything if you give me enough time to do so.
Last night I was having a great time with my friends, dancing, laughing, and just enjoying myself. I wore a v-neck sweater over a long-sleeve shirt, dark jeans, and some awesome shoes. I thought I looked sharp as hell and was even told so by a couple of people.
Then somehow as the night progressed, for no reason, I began wondering if I should have worn the sweater at all. Then I second-guessed myself on my choice of jeans over dark grey chino pants.
There I was dancing while my brain was thinking about something irrelevant to my having a good time.
Just the thought of what I should have wore took me out of the present and I became self-conscious, even though just a few minutes prior I was having a wonderful time without a worry in the world.
I didn't properly allocate the fucks I gave and it brought my mood down a notch. What I should've been concerned with was whether everyone was having a good time, because that's the only thing that should've mattered at that moment.
More examples? Of course, I've got plenty.
I put a tiny bit of hair product on when I'm just heading to the grocery store for a few minutes because I'm concerned with how I'll look. Don't want that bedhead while shopping for peanut butter.
I replay conversations in my head where I made a joke that nobody laughed at and wonder to myself what everyone thought of me in that moment, even though I know that the odds of anyone else actually caring about a joke falling flat is astronomically low.
While singing in the shower, I lower my voice a bit when I suddenly remember that someone in the hallway might be able to hear me as I rock out to Frozen's Let It Go. Then I immediately switch to singing "cooler" songs like Hotline Bling just in case someone's listening in.
Getting the picture?
We all have these ridiculous insecurities about what others think of us and we all dwell on things that don't really matter. But once you become aware of this habit, you can start fighting back. You can start snapping out of it quicker.
You can start allocating your fucks to the things that matter.
Ask yourself two questions:
Is this something that can impact my life negatively in the future?
Is this an issue I'll think about two weeks from now?
If the answer's no to both then what're you doing wasting all your fucks? Save it for the important stuff.
So going back to last night, I asked myself both questions and realized I was in my head for no reason. That helped me snap back out of it and get back into enjoying what was happening around me.
I'll still think about what I look like with my bedhead, I'll still be a bit upset when I tell a joke that falls flat, and I'll still lower my singing voice a bit when I suddenly remember my shower isn't soundproof. Yup, I'll still occasionally be using up my fucks when I don't have to.
But at least I can catch myself in the act, snap out of it, and start allocating my fucks to the things that matter.
What do you find yourself overthinking most often?