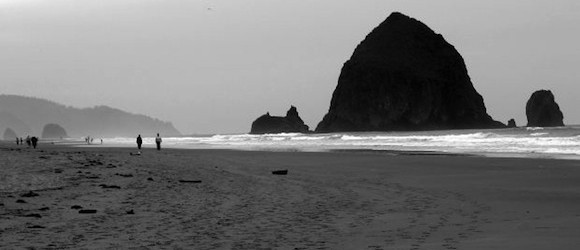 Note: This may be most cynical piece ever — perhaps my first — but I want you to read this and think. Who knows? Maybe you'll actually find this to be my most inspiring piece. I want you to question what it means to be educated, moralistic, or "better" than anyone else. 

They say that only the ignorant assume they know everything and the ones who are brilliant understand how little they really know.
The more you learn about a certain subject you begin to realize just how complex things are and wonder how many different threads of it you're missing. With that said, it is scary how much of the world we don't understand.
Reading Mark Manson's experience in India blew my mind and scared me just as much. It made me realize what I actually know about the world is miniscule. I know just about nothing. Not even .00001% of what there is to know. It's common knowledge that it's bad out there, but to what extent is the picture painted in our minds? It's bad.
Mark visualized the dirtiness of it all and made it real. Trash everywhere, scenes of impoverished people missing limbs stretching out for miles and miles. Children roaming the streets begging.
What clicked most with me was the hopelessness of the lone individual who is powerless to make a permanent difference in the lives of an entire society. How do you treat the disease? I have no idea.
A lot of people look to me as if I'm a teacher with all the answers to life. I know very little and I have a limited influence in the grand scheme of things.
As much as I try to help individuals I'm aware that my ability to help others fall under a very specific demographic: people who have access to internet, can read, and has the right amount of financial comfort to be able to not worry about survival every day. These people can afford to work on bettering themselves. But what about everyone else who doesn't fall under that group of people?
My observations and the way I think were influenced based off the environment I grew up in and the experiences I've gone through. Beyond that, do I really know what it means to be living in India where you can see people missing limbs for miles and miles?

I've never even been outside of the United States.
California, Arizona, Nevada, and Maryland are the only four states I've ever visited. Hell, how much of California have I seen? I was born and raised here yet I've never been to Northern California.
Someone from Switzerland had emailed me this week to say hi, ask for advice, and exchange personal stories. I didn't know too much about Switzerland so naturally I had begun to ask her about the cultural differences she saw between where she lived and what she'd experience in the U.S. (she spent a year over here as an exchange student.)
Did you know not everyone has to go to high school in Switzerland? Also, painting (not artists, houses and the like) is well respected over there and actually leads to a decent amount of money. She even mentions that people attending college actually fall under a minority.
How insane is that? We have the complete opposite of that, yet I just assumed all of our societal expectations were normal and universal. What does normal even mean at this point?
As a whole, it's easy for us to accept our truths as absolute that apply to every culture, country, and individual. We're the ones that are right and they're the crazy, backward ones. We live in our own bubble with facts presented as a universal reality even though they may not apply to the rest of the world.
We actually know very little. After all, it's nearly impossible to gain perspective if you follow life's "natural" course.
These things I've learned over the past week led me to reflect on a conversation I had with a close friend of mine several months ago. His professor at UC Berkeley was teaching a class that seemed to have opened a lot of students' eyes.
"I'm so disillusioned!" cried out one person who had his reality shattered by new knowledge.
The professor asked half sarcastically, "Would you rather be illusioned?"
That's a profound question. Knowing more than I had known just last week, am I better off? I'm a tad disillusioned now. Should I be… Glad?
I'm now a bit more culturally aware even though the amount of knowledge I've learned is just a droplet in the vast ocean of what's out there. However, I feel powerless. I've never stepped onto the lands of India yet I feel like I could somehow help them. But realistically, I know I can't.
I could donate as much as I can into organizations that I hope will go into deserving places but I'd still feel like I wouldn't make an impact. There's still going to be so much out there outside of my control. You're only masking the symptoms temporarily, but what about the disease?
Knowing there are opportunities out there that some may never see simply because of where they live or who they were born to is maddening. These are the things that drive people to aspire to become someone with influence. Maybe then can we make something everlasting.
It's a bit selfish to think this way but we can use this knowledge as fuel for our self-motivation.
We all have these moments where we wish we could be a superhero.
Somehow we'd be able to save the world from its struggles. So then some of us do our best by occasionally donating to charities. Others will volunteer when it's convenient for them.
These feelings of "I want to save the world" are usually temporary before fading away from the distractions of our own daily lives. There are people who are motivated for life but that's a minority.
I'm trying to do my part by helping people who are at specific points in their lives but I wonder how many people could have used my advice if they were in slightly better economic situations. Learning how to be confident, charismatic, or being charitable doesn't apply to the beggar on the streets of India. Knowing how to give a first impression does nothing for the poor man who has an infection that is slowly killing him as each day passes.
Sometimes I wonder if it's better to avoid becoming disillusioned. Is ignorance bliss? I'm fully aware that the voice of the majority will answer in unison that is better to at least know these issues exist.
I'm asking you on a philosophical level. Is it better to be illusioned towards things you know you will absolutely have 0.00000000% of an influence on? Do you want to be disillusioned so much that you're driven to depression? Of course not. Finding the healthy balance is the challenge.
Why do we scour the internet for stories of tragedy?
Some do it to appear sympathetic and even "educated" to their peers. Is it so that we are able to reward ourselves with a pat on the back, "I'm a good person" speech, and then finally a night of Netflix to congratulate ourselves on a job well done?
Never assume you know too much about anything because your reality can be shattered very easily. We know very little about what it truly means to walk in the shoes of those who live unfathomably different lives.
What can we do instead?
Help the individual. You don't have to throw all your savings into multiple charities and hope that you made a difference. I'm not saying don't donate, but you can instead help those you run into on a daily basis. Your close friend, your acquaintance that you kind of know but don't really; even the stranger that shoots you a glance as you pass each other could use your help.
If someone's going through an existential crisis and is looking for answers be there to listen to them. Sometimes it's best to just listen. That's all it takes. Don't offer advice unless they really are open to hearing it. We just need to vent our frustrations and sometimes it gets lonely.
Maybe set someone slightly younger you aside and tell them all the things you wish you knew when you were younger. If you're tactful enough, they won't think you're crazy. Maybe, just maybe, something will stick and you would have made all the difference in their lives.
Get outside of your bubble of influence. This may seem wrong of me to say considering the fact that I haven't even been outside of the U.S. yet but if you can, travel. See the world and realize there is so much more out there. I want to see the scenes that Mark Manson describes of India. I know it will depress me, but I want it to slap me in the face. I want to use it as fuel for self-motivation.
Sometimes I forget how little I know and I get into a condescending "know-it-all" attitude. I used to be in that mode all day and every day. These past few years have opened up my eyes on a micro and macro level. Talk to people who have different ideas and opinions so you can always be expanding your mind.
Stop reading 24/7 about things outside of your control. Don't be hungry for pitying others. It does nothing for you nor does it influence what's going on.
Learn enough to be aware but don't depress yourself. That's wasted energy you can go into helping the individuals of the world.
Don't waste your life. Enjoy your hobbies and "me time," but don't sit on your ass and read Reddit all day long. I know the feeling because I used to be like that. I'd either be playing video games or reading stories on Reddit. They're great on occasion but if you ever have regrets and ask yourself what you should be doing instead, find an answer to that question.
Now I'm trying my best to make a difference in this world, one individual at a time. It's working and it's paying off in more ways than I had ever expected. I'm glad every time I get a personal email from my readers who ask me to help them with a specific problem in their life. It reminds me that I'm making a difference and I'd never call that wasting a life.
Always question what you know to be reality. Don't make the same mistake I had for years. Don't assume you know everything. Stop thinking you're above everyone else. You know very little.
Then ask yourself one thing: would you rather be illusioned or disillusioned?