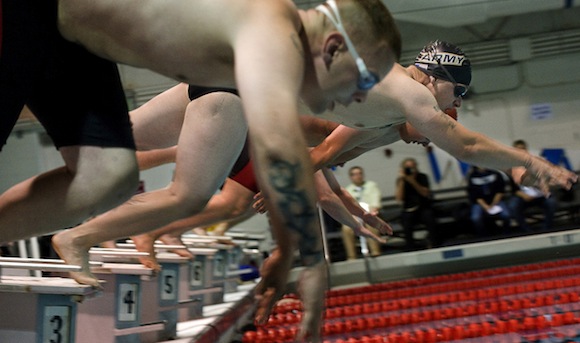 Aren't you tired of things never going your way?
You're stuck in a dead-end job because you're afraid you're not qualified enough to get something better.
You deal with being alone because you think you're not interesting enough to attract high quality friends or a significant other.
You run the opposite direction anytime an opportunity presents itself because you'll waste your time looking like a fool if it falls flat.
Then you stop believing in accomplishing dreams. You stop trying.
Do you really want to know how to get anything you want?
Imagine that in every moment and opportunity you strive for, you are competing against thousands of other people. It will force you to become tremendously creative in your approach.
Seriously, that is what I do every time I desperately want something. Every time I want to change the position I'm in. It works and I wish I had figured that out much sooner than I did.
When I started this website I knew that the personal development niche was supersaturated. I told myself that because there's tons of competition then I'd have to bust my ass to stand out.
It made me work harder than everyone else and that's why this site is growing the way it is. It's why I do things that I know will create results while others are passively treating their blog like a side gig. Forget being passive because this is a competition.
When I first went after three internships I was intimidated because I never worked a day in my life and I didn't have a resume. I kept picturing dozens of other students typing a golden cover letter and beating me. Maybe they have more experience or my application would be unappealing.
So I taught myself tons of marketable skills and learned how to present myself. Then I skipped the process altogether when I called up all three of the companies I wanted to work with and got them all before anyone else could. Screw applications or "playing fair" because this is a competition.
When I applied for my first scholarship I knew that there'd be several others going for the same one. Realistically, I understood there wouldn't be thousands, or even hundreds, but in my head I imagined that it was a competition between myself and others more qualified than I am.
So I hustled, got a glowing letter of recommendation, and won that scholarship after presenting in front of the scholarship committee. Abandon half-assing because this is a competition.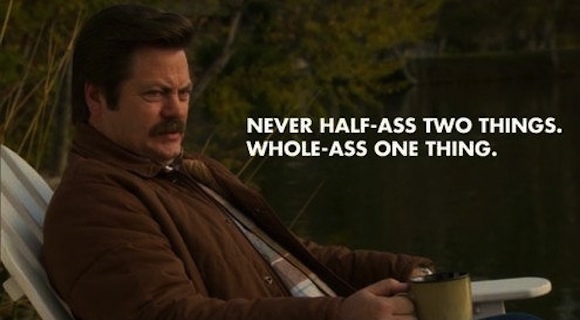 When I first stumbled on my dream job I told myself no way I could get that gig because there has to be people who have decades of experiences ahead of me. Plus, I was a 19-year old college student, so what were the odds of me getting the position?
That motivated me to think outside the box because I was competing against titans. Then I got the dream job and dropped out of college after I got millionaires to support me on video (which itself was a challenge.) Ignore the unlikely odds because this is a competition.
Things used to never go my way. I always either ran the other way before the race began or I sloppily did things. It's no wonder my buddies and I in high school used to joke that I was a "try-soft." I never put effort into anything.
Now I always compete and picture that I'm in the Olympics. I haven't lost many races since then. Things have been going my way since January 23, 2013.
I'm almost undefeated now.
Sure, sometimes I fail. For example, I haven't had a post picked up by Lifehacker.com before even though I've reached out to them several times. Neither have I ever written for Buffer's blog yet because the topics I've chosen didn't quite fit what they were looking for.
I also got declined by another blog back when I first started guest posting after I pitched a topic on rejection (the irony.)
But hell, you always get back up and win more despite how hard you fall. You have to get creative to get what you want with a ton of persistence. You have to keep in mind that you're constantly competing anytime you go after something so losing isn't an option.
You're going against the world, 7 billion and more.
How are you going to stand out and get what you want if you half-ass things?
In almost any situation you're going to have to show people why they want you. Prove it to them. Make them truly invest in you and nod their head in agreement with everything you have to say.
You have to make it clear that you're better even if you aren't. People look to invest in other people, so show them you're the one ahead of the race even if you're not necessarily the fastest. That doesn't make sense? Read it again.
There's no other method or thought that moves me more.
Picture it.
Seriously, close your eyes and imagine the details as realistically as you can. Thousands of other people who are better than you but desperately trying to beat you. Kick their ass. All of them.
Everyone in that competition is just as motivated as you are and even more talented than you. Even if you don't think that's true you have to make that a reality in your head. It will drive you further than any book will. It'll force you to get creative and figure out a way to kick ass.
Stuck in a dead-end job? Look for something that seems impossible for you to get and picture you're in that race.
Don't want to be single forever? Work on becoming someone that everyone wants to be with because there's tons of people going after that dream guy/girl you're after too.
Tired of running away? Start using that fear of failure motivate you to the point where you get so creative that failure seems like a 1% chance.
That's how you stop losing and ultimately become undefeated.
If you don't want to keep winning and you're okay with not getting what you want then ignore my advice. Ignore it all and keep reading articles instead of implementing what you learn.
But if you want to get anything and everything then… Well, you know what to do.