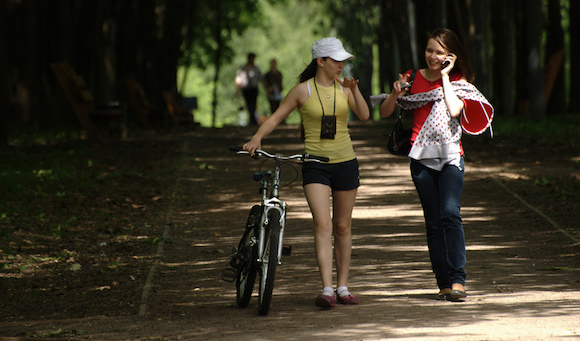 We always hear about long-distance relationships and best practices on how to make them work, but how often do we hear about friendships that span an ocean?
Yes, long-distance relationships are difficult, evidenced by some of my closest friends biting and clawing to make theirs work, but so are the friendships where you rarely get to enjoy each other's physical company. You don't get to laugh in person, high five in the moment, or slap one another's back. There's no teasing or throwing harmless objects at each other to strengthen the enjoyment.
Moving away from your friends and keeping the bond is a struggle of two or more.
It's scary to see that months pass without either of you saying anything to each other. Contrast that to how casually you used to walk into each other's houses on a daily basis to spend time together, not speaking at all feels odd. Sometimes I log into Facebook, look at my messages, and realize some of my best friends and I haven't said a word to each other in months.
The biggest curse is that your conversations, formerly filled with inside jokes and gossip, turn into awkward small talk with no real rhythm. Having to think about what to say next makes you acknowledge the lull in conversation that was never there before.
What happened?
I'll admit that the existences of my friends slip my mind sometimes. Unless there's something that reminds me of a specific person, I rarely think of them. Awful to say, right?
I was having a conversation about this last week and my friend summed it up perfectly: "We're great friends and half of the time I forget you're alive."
After I burst up laughing I stopped and realized the validity of that statement. How often do I really think about my friends? Perhaps the reason it's so easy to lose contact is because all of us have our own things going on and we forget to remember.
We're in an age where it's easier than ever to keep in touch with old friends. We've got Skype, Facebook, and free text/call services like Viber. Geez, it's almost laughable how simple it is. We can't even use the old "long distance calls are too expensive" excuse anymore.
Yet, months pass without a single message being exchanged with my best friends. Do we just move on and grow apart? I refuse to believe so. I think the next time I see all of my old buddies in the U.S. we'll embrace each other with big hugs and resume where we left off. I sure hope so.
Do as I say and not as I do. Check in on your friends. Make sure they're alright. Tell them what's new with you and make sure you know what's going on with them.
Don't assume you just grow apart because it takes an effort to keep a friendship going when you don't have the luxury of entering each other's homes at will.
Question: How well are you keeping in touch with your old friends?
Photo Credit: Andrey – Flickr