People look at me as if I were crazy when they tell me to be ready at a time like 10 in the morning, then they see me set my alarm for many hours before the scheduled time. They repeat very slowly, "10… You know I said 10, right?" I end up having to nod assuredly to make sure there is no communication barrier.
Little do they know, I intend to make the alarm even earlier than they saw me set.
Sure, there are plenty of people who wake up even earlier than 6, but remember many people absolutely dread mornings.
Even on days when I don't have obligations like usual at 8 a.m., I still make the effort to wake up hours earlier prior to anything. Why do I do this and how do you learn to become a morning person?
Notice the lack of noise in the morning
When you're all alone in the morning there's simply less background noise because everyone else is still asleep. Consciously note that and embrace its calm. This silence allows you to focus on the morning rituals such as journaling or meditation.
I've noticed there are fewer cars driving through my neighborhood at 6 a.m. so there's no outside distractions going on either.
Although the sounds of nature's crickets chirping at night may make you feel peaceful at times, it's good to just have an empty environment on occasion so I cherish the morning peace just a bit more than the night.
Take pleasure in the sound of your own thoughts and actions without external disturbance as the new day begins for you.
Take more time in doing your daily essentials
Perhaps you're an important person and you need to respond to countless emails every morning or maybe write some sort of report. Once you practice waking up earlier, you'll be amazed at how relaxed you can be when you are able to tackle these things at a calm pace.
Not only are you no longer sprinting out the door, you are getting things done while not simultaneously having adrenaline rushing through your veins. You don't have to multi-task anymore so slow down and work on things with a focused mindset.
You also make room for things you couldn't do before. Many people mention that they never eat breakfast. Do you know how important the first meal of the day is? I feel dreadful throughout the entire day if I don't provide myself some morning fuel. Wake up a little earlier and make room for breakfast; your body will thank you for it.
Shift your mindset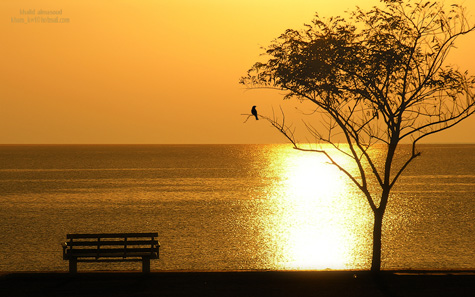 Ok, so maybe you just aren't a morning person. You don't want to get up earlier nor do you care about having to rush in the morning.
That's fair. It's not the worst thing in the world to think that way. I just have to ask you why do you feel that way?
Think of the mornings as a way to make up for yesterday's shortcomings if you had any. Think of the mornings as a way to be awake without having to do anything. See, you don't have to do anything in the morning. Just let your body be awake without having to do anything. You spend enough time being conscious having to do something for others, just sit up and be awake.
Mornings have so many different interpretations that you are bound to find a way to love it. It can be a brand new start for you filled with new opportunities. Why not wake up and meditate on it?
The argument: I only get X amount of sleep!
I'm sorry, that's no excuse. Here's something you can do and it's sort of something that takes time.
Every morning, set your alarm one minute back. If you have it set at 7:30, the next morning set it for 7:29. There you are now waking up one minute earlier. Continue this trend and after a few months you'll be waking up an hour earlier and more! If you're feeling really dedicated, maybe set it back by two minutes a day. It'll only be a couple of weeks until you have an entire half hour.
If you're going to sleep later than what you think is ideal then make it a goal to get everything done so you can rest. Don't give yourself an excuse as to why you can't possibly wake up at 6 a.m. Plenty of people do it and there are tons more who wake up even earlier. Join us as an early bird and soon you will establish morning rituals that can be complete in a calm manner. Remember to subscribe below to receive weekly OR daily updates!
Question: How do you intend to become a morning person?