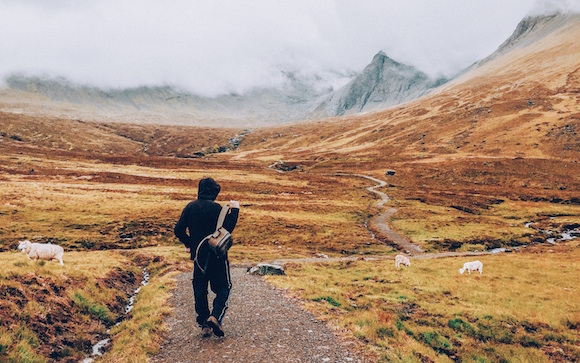 Oh boy, how many times have I uttered that sentence?
I'm still in that stage where I feel invincible, as if "bad things" don't and can't ever happen to me.
Until it does, of course, and suddenly I'm humbled.
A few hours ago, I took the freeway to get a haircut at my favorite barbershop just 15 minutes away. I don't normally take the freeway to get there, but I happen to live in an area where there are always events going on, many of which require the roads to temporarily close until the events are over.
Today, my city happens to be hosting an Ironman bike racing event, again closing off my street.
On my way back home, what should have been another 15 minute drive turned into an hour long drive as I forgot the streets were closed and I got sucked into snail-paced traffic.
So I hopped on the freeway, my little detour.
I should note here that it was raining heavily. When I had left the barbershop, I stepped into a large puddle while wearing flip flops.
As I was driving on the farthest right side lane of the freeway, a police SUV just a couple cars ahead was weaving back and forth between my lane and the next in an attempt to close off both lanes.
Obviously this meant I had to move over and as I merged left, the vehicle in front of me did too before abruptly stopping.
I hit the brakes… and my sandal slips right before I rear-end the car in front of me. One second I'm singing along to Vance Joy's Riptide and the next I'm standing on the freeway getting drenched by the pouring rain (isn't there a tiny hint of irony there? You know, because riptides involve water?)
It all happened so quickly.
Fortunately the driver in front of me wasn't hurt and you couldn't even tell there was an accident if you looked at her car. I got off lightly.
That was my first accident ever, but I certainly learned that just because it had never happened to me before doesn't mean it can't. Fairly common sense type of lesson but it was a rather hard-hitting wakeup call for me.
The crazy thing was how much of a perfect storm this all was. The rain, the soaked sandal, the Ironman event forcing me to be on a route that I never would've been on in the first place, and the police SUV closing off the lanes in front of me. All events that came together at just the right time to catch me off guard. Remove any of those pieces and more than likely that accident never would've happened.
Or maybe I'm giving myself too much credit.
As one of my old teachers used to always quote…
"Whatever can go wrong, will go wrong." -Murphy's law