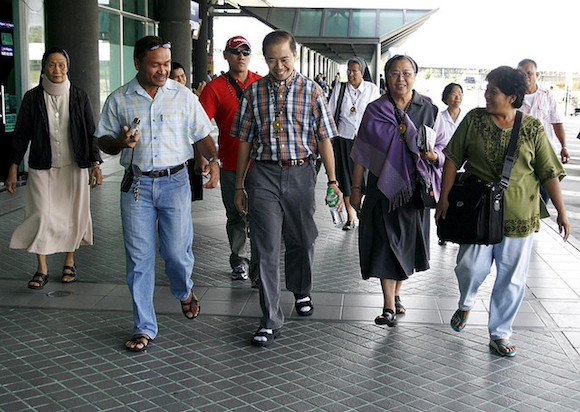 Right now I'm writing this article 7,700 miles away from home in a busy Coffee Bean. It's the same store I'd be in if I were back home in California. If I were in Arizona then I'd be at my old Starbucks/Barnes & Noble combo. Ah, I miss Barnes & Noble.
I've been getting a lot of readers asking me about what I've been up to in the Philippines which made me realize I've been a bit secretive lately.
Although there are plenty things I won't be sharing, I felt it's only fair to talk about my first impressions of this foreign country.
What I Like
First of all, the people are absolutely amazing. My friends from back home only knew about Manila and so they were concerned I'd be in an awfully crowded city with tons of traffic and swindlers. The truth is, I'm actually in the fourth safest city in the world, Davao.
Almost everyone in Davao has a completely different attitude compared to the western world.
Back in the states, time is money and we're all in a rush to be somewhere. We're angry, anxious, and we don't treat everyone as nicely as we should.
From my observations, it seems like everyone in this city loves one another. Conversations seem more genuine, smiles are wider, and laughter has a cheerful tone despite the impoverished state of many people living here. Time is slower and you can enjoy the little things more in this environment, something I really like.
I'm a bit boring, you know. I appreciate the quietness and lack of action at every corner. If you're into the party scene, you wouldn't enjoy this place nearly as much as I do.
It's funny to see security guards holding shotguns with a big smile on their face. Seriously, you can't go into any mall without being quickly patted down and your car or taxi being inspected for bombs.
These safety measures happens a lot faster than you would think, as these aren't airport TSA patdowns and security checkpoints. It's just a part of daily life that no one really minds.
All of the extra security is intimidating at first, but you get used to it almost immediately. Maybe when I go back home I'll find it weird I didn't get patted down and checked for weapons.
If you're light-skinned, you better get ready to be stared at everywhere you go. People will look at you with a smile on their face and a look of curiosity. "Whoa! What are you doing in my country?" They'll think you're just the coolest.
Funny enough, I blend in pretty well. Most strangers speak the local language with me because they think I look Filipino. Usually people will guess I'm either half-Filipino with a mix of either Japanese or Chinese (which people tell me is a good thing, so yay me!)
When I first got here, one of my bosses told me about how women you meet will text you to make sure you ate breakfast, lunch, and dinner. No, not like a "If you haven't eaten dinner yet then maybe we can meet up to eat!" It's more like your mom checking up on you to make sure you don't starve yourself to death. I thought he was joking but it does indeed happen.
But hey, try not to get freaked out. It's their way of showing they care and that they're thinking of you. It's pretty sweet in a way. Although I still find it weird, I chalk it up to cultural differences.
What I Dislike
As much as I love the people here, there are a few frustrating things. The cultural differences often lead to hilarious moments, but you'll be disappointed if you think you can go about your day in a quick pace.
Why?
Things here are incredibly slow and everything seems almost half-assed.
I'm not talking about just the internet (which seems to be stuck in 2007 speeds.) I was at the mall yesterday and there were six employees standing around one cash register while two of them manned it. There were four people in front of me and it took a good 20 minutes for me to get to the front and another few minutes to ring up two small items.
One thing you could never expect is to be able to find a specific item in a reasonable amount of time when you go to the mall. No employee will be able to tell you where it is but will instead point you to a random aisle where you'll have to ask yet another person (who will also guide to you the wrong place.)
My boss taught me to laugh at the absurdity instead of letting my blood boil every time something goes wrong. Since I'm not exactly the most patient guy in the world, and I tend to have a short fuse, it took a while for me to learn to expect headaches. It used to get to me but not so much these days.
I've realized not getting upset at this country's inefficiency is necessary if you want to avoid rupturing a vein. If you've got a temper, you won't like this place.
For those of you who haven't been in a city that relies on taxis and motorcycles, you'd be just as surprised as I was. There are a lot of people who own cars driving around, but I'm not used to driving in a taxi on a daily basis.
Taxis have its upsides, but I definitely miss being able to hop into my Honda Civic and driving over to a friend's house. Meeting up with people here means getting into a taxi and finding each other 45 minutes later than planned. We call it Running on Filipino Time and it happens to everyone. You can't really avoid it.
Growing up in Southern California, I was used to having amazing ethnic food whenever I wanted. Mexican food? Check. Vietnamese? Check. Korean, Peruvian, or even Salvadorian? You bet.
Ask any foreigner out here what you have to try and they'll laugh while they tell you the food here isn't great. You really have to lower your expectations when it comes to eating out.
Food that would make you shrug your shoulders back home and say with an unenthused "Eh" would probably be the best you can get in most places here. If it doesn't taste horrible then you found a good place. Luckily for me, we have a maid that cooks great American food from recipes we find online.
The hardest thing to accept about the Philippines is seeing poverty up so close and personal. Children begging on the streets, people visibly struggling to make a decent living, and the rundown areas of town pull at my heartstrings even today. In some ways, I'm still struggling with trying to save the world and accepting reality for what it is. I have to remind myself I can't help everyone.
Despite the common person's struggles, long work hours, and meager salaries, people seem so content. They're happier than the people back in the U.S. making six-figures a year. They find life more meaningful than people majoring in a field they hate. They're okay with having less and they don't gush over the newest iPhone or Android.
The Philippines' optimism is a testament that anyone can see the good in life despite financial hardship.
The combination of things I like and dislike about this place is what makes it unique. Despite the minor inconveniences, I'm glad I can call the Philippines my home. It will be nearly impossible for me to leave this place now.
Thank you Self Stairway for getting me to where I am today and also a huge thanks to Empire Flippers for bringing me out here. You all treat me so well.
If you're wondering if Southeast Asia is worth exploring, I say hell yes. Davao has been my only stop so far, but from what I hear, the rest of this side of the world has a lot to offer.
If you happen to be in the area, shoot me an email and we'll hang out.
Photo Credit: Keith Bacongco – Flickr