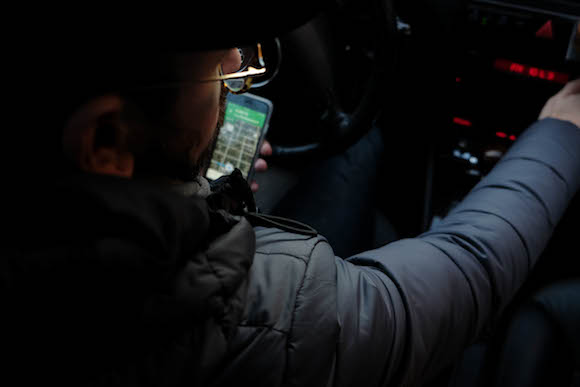 If you were on my Facebook wall right now, you'd see nothing on there.
No recent status updates or comments. Just a blank wall you'd have to scroll down a bit to see the latest post.
You wouldn't even be able to post a new status on my wall even if you tried.
I made the conscious decision over a year ago to disable new posts from showing up on my wall. My latest personal update was on June 16, 2013, inviting my friends to slap me for $8/hour.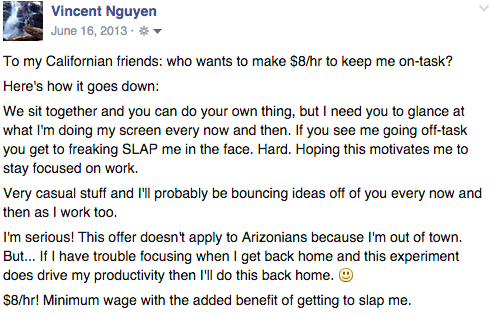 I installed Snapchat a few months ago out of curiosity and it was awesome. I was able to keep in touch with my friends in a fun way that's somehow more personal than a Facebook message or a text. Sort of just one step down from actually hanging out in person.
But after only a month or two, I became conscious of the fact that I often had the urge to post something new with the sole intent being to show off what I was doing at the time.
It was an easy way of getting an endorphin rush by (not-so) subtly boasting.
This took me out of the moment of what I was doing and made the moments feel a bit less special. Instead of doing something for the sake of doing it, it became more about documenting the moment and seeing how many people viewed my snaps.
The same thing applied to Facebook. How many Likes and comments did my status get? How do I frame this status update to make me look as cool as possible?
Social media became a convenient button for endorphin rushes and ego boosts. One of my first thoughts when I booked my plane ticket back to Asia (aside from documenting that too), was "Sweet, think of all the exotic snaps I'd be able to take over there.")
On the other side of the coin, if I was bored and had nothing going on that day, I'd open up Snapchat (or Facebook) to see what everyone was up to.
Now instead of showing off and getting an ego boost, I was comparing what I happened to be doing (or not doing) at that point to what someone else had going on.
It stopped being fun. It stopped being about keeping in touch with my friends and being silly and instead became a way to bolster my ego or beat myself up.
And what scared me most was how habitual it had become. My mood was on the verge of becoming reliant on what was going on in the world of social media.
So I had to remove the addictions from my life and limit the easiness of a cheap ego boost.
There's nothing wrong with being active on social media in most cases. I just happened to have been using them for the wrong reasons.
The marginal downsides of being active on Facebook and Snapchat daily outweighed any potential benefits, so I had to cut them out.