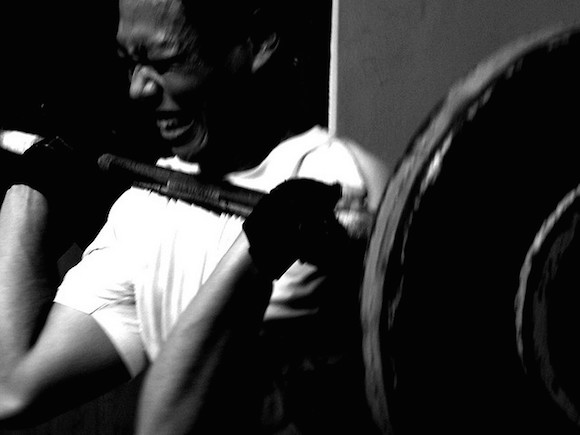 The first time I stepped into a gym was in April 2012, then 5'7 and 110lbs.
With me usually being the skinniest guy in any given room, I was excited at the idea of putting on muscle and gaining more weight.
One of my best friends introduced me to the almighty barbell and showed me how to properly perform the movements that would help me put on the mass I've always wanted.
I eventually started lifting a bar, stacked with plates, that weighed nearly double my own bodyweight. I was getting stronger, bigger, and more comfortable with my body.
Then I stopped.
I stopped going to the gym and lifting those enormous weights that helped my body get into the best shape of my entire life.
The next few years were a constant back and forth between resuming my lifting routine and pausing it, resuming then pausing.
It became a cycle that kept me in an extremely narrow range of progress. Any steps I did take forward would be erased when I stopped for yet another three, four, or even five months.
Sometimes I wonder what I would look like right now if I had kept up with weightlifting since day one. If I had continued to eat more to achieve what I wanted.
As skinny as I am, it's pretty common to get teased for being so skeleton-like (though I'd imagine if I were overweight instead, weight would be a more sensitive subject for others).
Any time the conversation comes up that I'm trying to gain weight, you can actually see the mouths of everyone within earshot simultaneously opening to chime in on how "lucky" I am to have the opposite problem of the majority. Of course, there's always someone who says "I wish I had to eat more" while I politely nod and smile. It's funny because I actually dislike (maybe even hate) eating.
Not having someone there who empathized and understood the struggle of being too skinny made giving up easy.
But this time I'm more determined than ever. In just the last three weeks alone, I've put on 9lbs and am currently at the heaviest I've ever been. Already I'm seeing major improvements in the mirror.
The reason why I was constantly starting and stopping with the weight gain routine is because I lacked accountability. There wasn't anyone there to make sure I was trying to hit my goals.
One of my buddies and I have a weekly call where we check up on each other to make sure we're hitting our personal and professional goals. Two of my goals are eating more and going to the gym four times a week.
We have a spreadsheet that's visible to the both of us, which we're meant to update daily. Since we can see how the other person's doing (our goals are right next to each other on the spreadsheet), it gives us more incentive to accomplish that task for the day so we can get that "Yes" into the box.

I also hired a personal trainer to put together a workout and diet plan for me, the latter consisting of six meals that I struggle to stomach. I meet with him once a week but we communicate semi-regularly when it comes to making adjustments to workouts and diet.
That's not even the best part.
I've recently eliminated two things from my life that I absolutely dread: grocery shopping and cooking. That's right. I hired a personal chef (via Craigslist) and it's made eating the six meals a lot more tolerable.
It isn't nearly as expensive as you'd think. For $140 per week, I have a chef batch cook an entire week's worth of food for me (the right amount of portions and nutrients that follow my trainer's diet plan). That cost covers the actual price of the groceries, her services, and delivery.
I've got a good feeling about this. I think I'm going to stick with my fitness goal this time around because I've put skin in the game and have multiple accountability systems put in place.
Some people might be shaking their head as they read this–really, personal chef? Who does this kid think he is?–but hey, whatever works works. There's no other way I'd be able to shovel down the six meals per day my trainer prescribed for me.
I'm not starting over again and I know what I want. It's time to make it happen.
Oh and of course, publishing this article puts me on the spot as well, so I don't want to let you down either.
Photo Credit: Flickr – Sebastian Mary