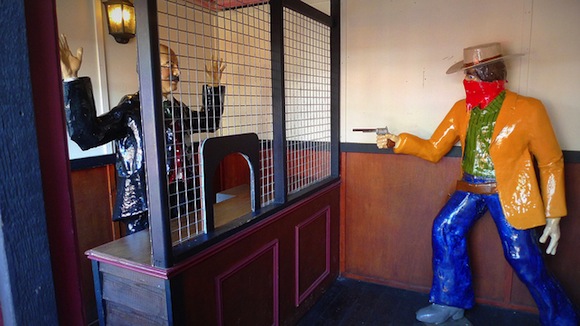 I've got something to confess.
It's about time I reveal what I've been doing. I'm a thief and I've been stealing for years.
It started off as a small thing.
You know, it always starts small.
You realize how easy it is and you work your way up to bigger steals.
It made me feel… Good. I think everyone should try it at least once. You can't beat the rush you get from stealing.
That adrenaline you get from getting away with something naughty. That lingering fear that you might get caught.
It's just so wrong.
I'm not talking about stealing tangible belongings
You can breathe easy now.
What I mean is that I've been taking characteristics from others that I admired. I break down their behaviors to see how I could learn from how they carry themselves.
Stealing has been working brilliantly.
From an early age I had this misconception that being cool was about hands in your pocket and back against the wall. Toss some sunglasses on there and you've got yourself a recipe for drop-dead sexiness.
So I looked at tv shows that had cool characters so I could mimic their greatness. Turns out that tv wasn't a good medium to learn from.
Which brings me to my first point.
Copying the wrong people can hurt you more than anything.
I'm sure you know that. For example, no one aspires to be like Screech from Saved by the Bell. Not even Screech wants to be like Screech. Sorry, Screech.
What I do now is look at the people who are living and breathing around me.
They have certain aspects of their lives figured out that you're still missing the piece for.
Even with that you've got to be careful who you choose to learn from.
Don't go out of your way to change into someone you're not.
Take the good and leave the bad.
Learning to be everyone's best friend
A buddy of mine I went to college with was a social beast. Everywhere he went he'd engage in conversations with at least 5 different people.
It was insane because you couldn't tell whether or not he knew already someone.
He treated everyone like he's known them for years. I had difficulty figuring out whether or not this guy knew everyone on campus or if it was just how he was all the time.
I love talking to people as much as the next guy, but my friend took it to a whole new level.
I learned from him that you should treat everyone like you've known them for all your life. It makes people feel good about themselves and about you. It also makes meeting new people easier.
He was also 100% genuine in everything he did. He invested in what you had to say to him. He'd listen and press on for more questions.
You'd feel like you were the most important person in the world when you sat down with him.
You bet I stepped up my listening game after hanging out with him.
Learning to live in the moment
Another friend reminds me of Barney Stinson from How I Met Your Mother. His face even looks like him a bit too, but mostly it's his mannerisms and the way he speaks.
I learned how to relax and have fun from this guy. He seems to always be present. His mind is never wandering off and he clearly enjoys every moment with his friends. He never censors himself and what comes out of his mouth is always hilarious.
There are days where I'm stiff and living in my own head while I'm out and about. There are nights where I watch what I say a little too much.
It's not good when you do that because you start missing out on what makes socializing so great. The unfiltered conversations where everyone is shouting what's on their mind.
Thanks to him, I started focusing on staying in the moment and having fun.
Learning to empathize
This person was the nicest person I knew. She treated everyone with respect and made sure they were always comfortable. She tried talking to everyone even if she was nervous because she'd much rather stick her own neck out than let someone feel lonely.
I wasn't always so empathetic towards others' feelings. I was often reckless. I said things just for the sake of getting a word out. I didn't make an effort to ensure everyone was enjoying themselves.
But you have to think about how you make others feel. Maya Angelou said it best:
"I've learned that people will forget what you said, people will forget what you did, but people will never forget how you made them feel."
How you make people feel affects relationships. They can either be strengthened or strained and empathy makes the former much easier.
I learned to be empathetic from her.
Learning to be who I am today
Finally, there's one of my best friends who I have to give the most credit to.
He's inspired me in hundreds, maybe even thousands, of ways. I don't know if he realizes the impact he's had on me.
He's been a huge part of my development. He changed the way I see the world.
I can't even begin to list just how far I've gotten because of this guy. Starting Self Stairway was influenced by him. Working on my posture, my interest in the world of fashion, and so many more things. All thanks to him.
So there. You now know my biggest secret.
I'm a thief and I'm unashamed.
You've got to choose your own role models and figure out what you can take from them.
Set your eyes on your marks.
What makes them awesome?
They won't mind you reaching into their pockets.
Thievery of the mind is the sincerest form of flattery.
What do you think? Is stealing good? Have you stolen before? Leave your thoughts and stories in the comments below!
Photo Credit: Henry Burrows, Flickr