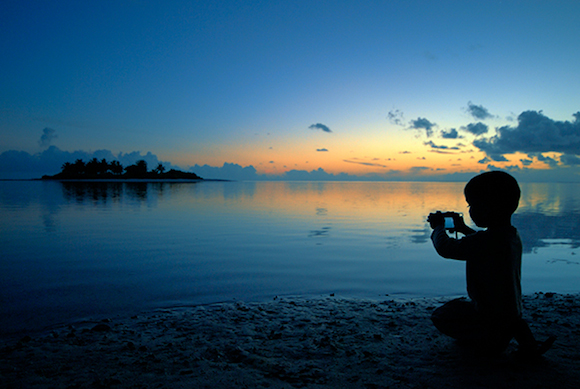 Right now you and I are both as young as we'll ever be again. Time keeps going and it won't stop for us.
I'm 19 years, 10 months, and 21 days old. That's about 7,265 days old. After today, I'll never be 7,265 days old again. The hundreds of millions of seconds I've spent alive so far will eventually hit a billion, (although I won't have to worry about that for another 12 years.) Time keeps going and going.
Before moving to the Philippines I thought that I would make use of my time here and become a Renaissance Man. Professional coaching lessons that would normally run you about $50/hour in the U.S. only costs about $3/hour out here for the same quality (if not better.)
In preparation of my move, I wrote down a list of things to learn so I can master everything I could possibly think of. So far, I've done none of those things except tennis, a sport I've been playing since before high school. No Argentine tango, firing guns, bartending, or drum lessons. There are about a dozen other things I want to tackle but I haven't even bothered to look up more information online.
I also thought about all the traveling I'd be doing out here because flights in Southeast Asia are so cheap! Yet, I haven't left the city of Davao since first arrival. It won't be until June before I explore outside and it may not be until October before I visit another country aside from the Philippines. I've been too comfortable here and told myself lies like "travel is too expensive" knowing full well that it's incredibly affordable.
I'm freaking 19! There's no better time to learn a ton of valuable skills and explore the world than now!
Am I waiting to get older? Am I waiting until I'm 1 billion seconds old, or 31-years old, before I fill up my Passport with stamps?
You and I will never again be as young as we are right now in this very moment.
There's a healthy mix of people who are all over the spectrum, ranging from absolutely maximizing the amount of time they have for self-enjoyment all the way to spending it piss poorly. On the scale, I'm probably leaning more towards "spending it piss poorly" simply because the potential to do so much more is there for me. There are honestly zero excuses as to why I'm not taking cool private lessons and traveling around Asia.
There's been a lot of "do as I say and not as I do" being published here these past few weeks. Hopefully that just means I'm being more honest with myself, but I wonder if these are inferior to lessons where it's leading by doing, showing by example, etc. Whatever, I'm cool with it.
I've always said this blog is for both me and the reader, so if writing posts like this is therapeutic for me then so be it. It's made me realize I need to start using my time to explore more hobbies and sports, like teaching myself how to swim. That's long been overdue.
Enough about me. Over to you.
What are some things you want to do that you've been procrastinating on?
What are your friends doing that you're jealous of and why aren't you doing it too?
How well are you you using your time?
Photo Credit: Muha on Flickr