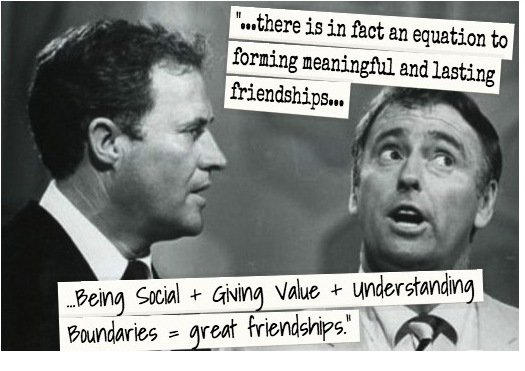 This is a guest contribution by Chris Grimm. You can find his bio at the end of the article. We hope you enjoy the article.
The Friendship Equation
I used to do everything alone and put on a façade of happiness to keep my family from worrying. The past two years changed that though. Now, I am always going out with happy and uplifting people who help raise me to a level I could not have reached alone.
Despite the fact that I do math at the level of an ADD ravaged toddler, I feel there is in fact an equation to forming meaningful and lasting friendships. Being Social + Giving Value + Understanding Boundaries = Great Friendships.
Being more social gives more opportunities, giving value is what you can give to others, and understanding boundaries is what keeps a relationship healthy. This step-by-step process will help you make friends and learn how to get a social life that you only dreamed of previously.
Be Social
If someone told you I talk entirely too much, they would not be wrong. Studies show the average woman says 20,000 words a day. I call 20,000 words a slow Tuesday morning.
Whenever I am out socializing, I could be compared to the Energizer Bunny after he drank four cups of coffee. Follow this up with 2 caffeine pills and strapping his heart to a car battery.
You need to talk to people everywhere. Talk in line at the store, on the street, maybe even while waiting in line on the street. The more people you talk to, the more chances you have to make connections.
In order to increase your chances, try joining a club for something you are passionate about. This gives you a commonality that makes it easy to start a friendship. If you are nervous about this then that is good! Break your comfort zone and make new friends.
If you are in a random location, just use something completely functional to start a conversation. "If this line doesn't hurry up, I'm going to have to shave again soon" or "If Starbucks is going to charge me so much for a coffee, I at least want a toy to come with it…like a mini happy meal."
From here it isn't hard to transition to a normal conversation, just shake hands and introduce yourself and you are off to the races!
Give Value
What sets you apart from the crowd? Every person wants to know how someone else can help them; this is where you "deliver value."
It's not hard to do this, especially in college. You just have to be a fun person to be around. With this in mind, you need to be laid back and fun. Don't latch onto your new friend as if you're a blind squirrel who finally found a nut – that gets annoying fast.
Imagine that you are not going to see this person after tonight, that means there is no point in completely overwhelming them with eagerness. Crack jokes, don't try too hard and don't take yourself so seriously. To further increase the value you can deliver, try to organize events that let people mingle. If you focus on being a fun person who is able to live in the moment you are well on your way to becoming a social animal that others want to be around.
Understand Boundaries
Respect is more important than popularity. No, I don't mean respect in the form of The Godfather. I mean people need to respect and understand boundaries. A pet peeve of mine is someone interrupting me when I'm talking or is repeatedly late for something. The first time someone does something you dislike – just ignore it. The second time someone does it, tell them later that you did not like what they did and to please not do it again.
Slowly escalate the social pressure you put on them each time, until you are forced to call them out on it immediately after it happens in some cases (whether or not other people are there.)
The important thing is don't get mad. Keep your calm and be polite. Do not act like the homeless lady I saw screaming at her purse who "stole her bank rolls."
Setting boundaries is endlessly important, because people will always test your boundaries to see what they can get away with – it's simply human nature. If you give an inch, you'll soon give up a mile.
With this said, be aware of other people's boundaries.
In Closing
The human animal is social by nature. People are so much friendlier than you make them out to be.
You may get rude reactions from some people, I certainly have. I have been screamed at, ignored, and once a gentleman who was hard of hearing misheard, "Hey, what's up brother?" to something bad regarding his mother.
However, these are far and few between the hundreds of connections I have made – and it was worth biting a few bad apples to meet some of the people who I now regard as my best friends.
Go out there and talk to some people.
Hope you enjoyed Chris' article. I encourage you to leave a comment for Chris!