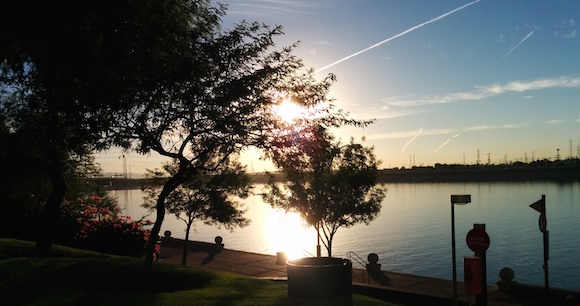 Last week a good friend of mine confessed that although he was on vacation, he didn't feel excited or even as happy as he thought he'd be.
He deduced that the reason for his lack of excitement was because he wasn't able to take part in his hobbies while he's out and about. The routines he's setup for himself were left back at home and there was no way for him to enjoy writing, performing on stage, or any of his other favorite activities.
As a result, he was desperately missing home even though he was on vacation.
And as I was hearing this, I realized I was in his exact position.
I've been back in California for the past few days to visit some friends and family but sacrificed my routines to be here.
At home, I play tennis several times a week for, at the very least, two or three hours at a time.
I eat six meals per day and have my eating schedule thoroughly planned out because I'm trying incredibly hard to gain weight. I go to the gym four times per week so that diet isn't just becoming excess fat but showing on my body as muscle.
I have my own car, my own condo, my own system of doing things around my home, all completely gone the moment I'm in another state or country.
Since coming back to California, I've been eating significantly less because fitting six meals in each day is a logistical nightmare. I don't have my car with me and I don't want to burden my friends by having them drive me to the gym, so working out is off the table too.
All of this weighs on me while I'm supposed to be having fun. As hard as I try to stay present, a part of me is too excited to return home.
With just one more day to go, I'm so ready to return to my routines, hobbies, and systems. I have it good there in Arizona.
This is the same bittersweet feeling I had when I was in Breckenridge, Colorado just a couple weeks ago. It was an incredible time and I swear I have never have laughed more in a single four-day window as I did in that snowy cabin.
But I'll tell you the same thing I told one of my friends on the airplane as we departed Colorado and headed back home.
I'm so glad to be going home. I miss it and that's a damn good sign.
It tells me I'm happy there and that I've got a good thing going. We should feel homesick while we're away.
Bring me back home, because that's where I want to be.