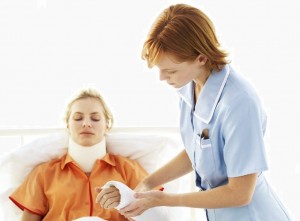 Quite often, a physical injury has the potential to affect not only the victim of said injury, but those who know the individual as well. People may be miserable because the ones they love is hurt or maybe a family can't afford to eat due to the decrease in income as the person can no longer work. Not often do people consider physical pain as something that can offer new, positive opportunities.
However, as luck may have it, injury can benefit more than just insurance companies. A friend of mine tore a ligament in his knee recently and it made me happier than I've been in a very long time.
Whoa, what did I just say? Am I really so sadistic as to claim that I am actually happy because a friend of mine is in pain? Am I that cruel?
As with everything, there is a story that goes along with all of this.
The Story of New Opportunities
My friend and I were helping a community service event held at our school's campus. Innocently enough, we were in charge of giving people footballs and retrieving them. While going for a football, my fellow man took a quick misstep and his kneecap went out of place.
Of course, as goofy as I am, I did not even recognize the urgency of the situation for almost a minute as he sat there on the floor. We waited for the paramedics to arrive and decided that I would drive him home so a family member can take him to urgent care. Afterwards, I decided not to go back to school for the event and drove back home.
The End.
No, that's not really the end because there is so much more.
When I got home, I decided to begin writing my resume; a simple task I have been dreading and delaying for as long as I could. I had no more excuses as to why I couldn't do it.
Turns out, starting Self Stairway has taught me many valuable skills that I've mentioned very recently. Using these skills, I've joined two very promising companies that both have amazing things to teach and offer me, such as perfecting the art of writing, creating complete press releases, connections with professionals, and even meeting executives of big clients such as Google!
Many opportunities are opening for me and many more on the way. All of this in the span of a few weeks thanks to the pain of a friend.
As a great friend, he'd probably even use his injury to attract women to me. I can imagine him sitting there, gripping onto his crutches that are laid against the table with a serious face. "Yeah, there he was, lifting the car off my leg. I don't know how he did it, but he's my hero."
If it weren't for you, I wouldn't have any of these exciting opportunities and I learned that there's more than the conventional ways to learn how to be happy. You are my hero. I sincerely thank you and hope you get better soon (so I don't have to keep holding your things.)