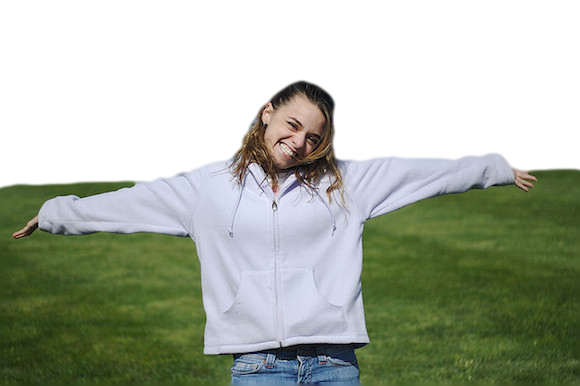 Last week, Becoming Minimalist's Joshua Becker wrote a fantastic post called The Freedom of Authenticity (and 7 of My Biggest Flaws) and I'd be lying if I said he's not the reason I'm writing this. Our headline and intro are practically identical!
We chatted on Skype for about an hour when I congratulated him on being able to show such authenticity in his writing. I figured it was a challenge because it's never easy to tear down your walls and admit you're not perfect. It's even harder to do that in front of a huge audience.
Joshua mentioned that he often receives emails from people praising him as if he were somehow above them. They thought he had truly mastered his urges and that he was the perfect minimalist. He revealed that he too struggles with the decision on whether or not to write and maintain a perfect image of himself or peek out and say, "Yes, I struggle too!"
We all know that no one's perfect, but sometimes we idolize others and dismiss the possibility that they too fail, fall, and succumb to forfeiting.
Despite the progress I've made on my own journey of self-improvement over recent years, I'm still filled with flaws and insecurities. There are plenty of new ones that weren't apparent until only recently.
I don't have any excuses. I'm in another country doing exactly the work I want while surrounded by people who can teach me so much. Everything is going well right now and yet there are still days where I'm upset at the world.
I was worried that my struggles make me "unqualified" to write about certain subjects, but that's not true. Regardless of these flaws, I've got a better hold on them than I did years back.
Remember that improving yourself is a gradual process and constant work-in-progress. Personal development is much more than just reading and theorizing, it's about applying, experimenting, and calibrating.
The first step to fixing and improving on your faults is to acknowledge you have them.
Five of My Biggest Flaws
I'm critical of others (and never of myself.) Whenever something goes wrong, I don't stop and consider that I may be the one at fault. Instead, I displace blame and automatically assume that someone else is in the wrong.
My mind also defaults to thinking I'm better at any given task, which is ridiculous because I'm absolutely horrible at so many things. With that mindset, it's no wonder I never blame myself.
I'm working on this by trying to become more aware of what goes on in my head so I can shut down these judgments before they get louder.
I'm uptight. I sometimes have a problem loosening up once the whole "I'm upset" thing sets in and I'm generally a bit tense. Although I'm a laidback person, things can head south pretty easily if I don't get out of my own head.
When things don't go my way I turn into a complaining crybaby.
I've got to be honest, I'm not sure what my strategy for fixing this one is aside from reminding myself to relax. Others are hinting that I should take some liquid courage every now and then.
I want everyone to like me. When someone's critical of me or even shoots me the wrong look I start analyzing the situation. Did I do or say something wrong? Do I look funny? Why doesn't this person seem to like me? I forget that you can't win over everyone and there are just going to be people out there you don't get along with.
How am I tackling this one? Simple. The IDGAF Strategy.
I have a short fuse. Although I'm much better about controlling my anger than I was in high school, I still blow up at the smallest thing. While trying to extend my Philippines visa I got so upset at the immigration office's inefficiency that I crumpled up my application and stormed out. Note that immigration isn't the ideal location to cause a commotion because they can cause you a lot of problems.
Another example? Well, someone was rude to me at the gym so I made sure he knew what I thought of him. I won't get into the exact dialogue we had because of the word choices I used that night, but feel free to use your imagination.
To fix this, I'm using the same tactic above. IDGAF.
I too often think I'm perfect and can do no wrong. This is arguably my biggest fault. There are a lot of times I caught thinking to myself, "I'm awesome." Sounds silly, doesn't it? Talk about over-confidence…
I would be showering and smile at how cool (I think) I am. I'd be playing tennis and smirk at what a great shot I just made, completely ignoring how many times I hit the ball out.
Aside from the complete arrogance, this is a big issue because sometimes it stops me from working on self-improvement.
I'm still a huge work-in-progress with enough sharp holes to grate cheese. I'll admit, I smirked a bit when I wrote that line and congratulated myself.
This one is sort of solving itself. Reality hitting you in the face on a daily basis tends to open your eyes right up.
Look at this list. This is only five of my flaws and you can bet there are tons more.
It feels great to be so open. I'm a bit scared now that it's out there, but I think it's good to be honest with ourselves and with others.
Now here comes a big ask. I'd like to invite you to join me in opening ourselves up to the world.
What are some of your biggest flaws? For bonus points, let us know what you're doing to fix them.
Photo Credit: Kevin Marsh – Flickr