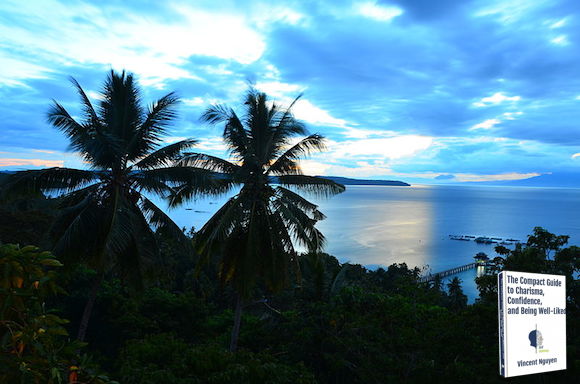 This is the last article I'm publishing on Self Stairway…
…from the United States for the rest of this year. Whoops, should I not have led with that first sentence? That sounded like terrible news. Heh, my bad.
This Friday night marks the start of an exciting new journey for me. As some of you know, I recently got a job that will have me outside of the country for six months.
I'm flying from California to Davao, Philippines. It's supposed to be the fourth safest city in the world, so it's got that going for it.
It's an interesting place. Large community of ex-pats and English speakers. There's some diversity, vigilante death squads, mayor ruling with an iron fist, etc. You know, usual stuff.
Truthfully, I'm scared shitless. I've never been outside the country before. Right now is about the time where I mentally start preparing for some serious culture shock. Oh and the vigilante thing sounds kinda scary too.
I can do this. I can do this. I can do this.
Don't worry about me ditching this website and disappearing. I'll still be publishing every Monday morning like I always have. I'm not going anywhere (except for the other side of the world.)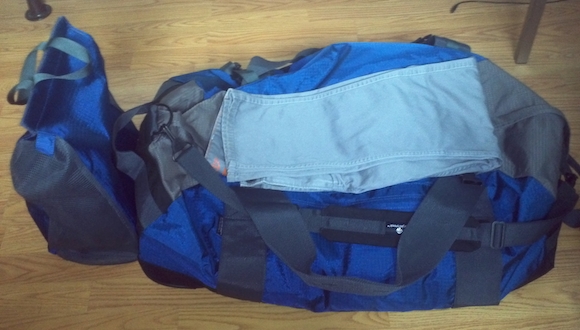 That's all I'm bringing with me.
I can't believe it's been a mere nine months since opening Self Stairway. Now I'm leaving the country for 2/3 that amount? Holy crap.
This is the first time I've written such a casual "about me" sort of post. Neat. I should do these more often.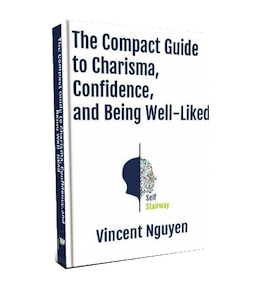 Enough rambling on and on. I want to tell you that I finally finished my free eBook, The Compact Guide to Charisma, Confidence, and Being Well-Liked! I don't want to dedicate too much of this article towards pushing it on you, so please click the link above if you want more information on it.
Members already on the email list should have already received a download link in their inbox last Friday. If you missed the first email with the link then hold on until Tuesday and I'll send it out again. I'll include the eBook link in every email for the next few weeks just to be safe.
If you're not on the list yet then you'd better get on there as soon as you can. The eBook is an exclusive gift and I've already received several emails from people letting me know they loved it.
You can join and get the eBook right here:
Did you do it? Good.
Please tweet about it and share it on Facebook after reading. I'd really appreciate it!
Anyway, I thought I'd do something a little different this week. I used to struggle a lot with opening up and talking about myself.
Can you believe that? I pretty much talk about myself every week!
To end this article, I want to share 30 facts that most people don't know about me. These are things that don't really come up in conversation but are fun stories. From childhood to the present!
Go easy on me! It's not easy being vulnerable.
Shout-out to Scott Dinsmore from Live Your Legend for this idea!
1. I have a huge battle scar on my right forearm.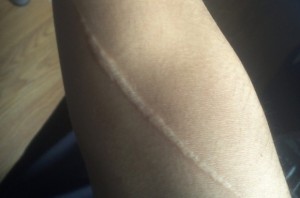 No, it's not self-inflicted. I went to the doctor the other day and she asked me that. It never occurred to me that some people may think that!
Even though it's pretty big people rarely notice the scar. I don't even remember it's there most of the time and when I do, I start playing with it. It just feels so gross and looks so cool!
When people ask me how I got it I always joke about it. Usually I freak out and act like I've never seen it before in my life.
Other times I tell this intricate story about a Halloween party.
This is how it usually goes:
"Every year my buddy Chris throws a Halloween party. We usually stay there until pretty late at night. This year—I think it was 2009—I was dressed as Superman.
When the party ended I started walking home as I always do. Chris doesn't live too far from me and I enjoy night walks.
I'm walking pass this usual alley and I sort of see something moving. It's pretty close to where I'm at. I investigate, go a bit closer, and I see a guy trying to pull this purse off someone.
I run over to try to stop him, but first I take off my jacket revealing my Superman "S" costume. Yadda yadda… We fight and he shanks my forearm and takes off."
Then I usually let them know I'm kidding immediately after then they punch me for leading them on.
The real story is much less exciting. I almost never tell it because it's so much more fun messing around.
If you want the real story then let me know in the comments. I'll tell it there.
2. I took taekwondo classes as a kid (and was undefeated until tragedy struck.)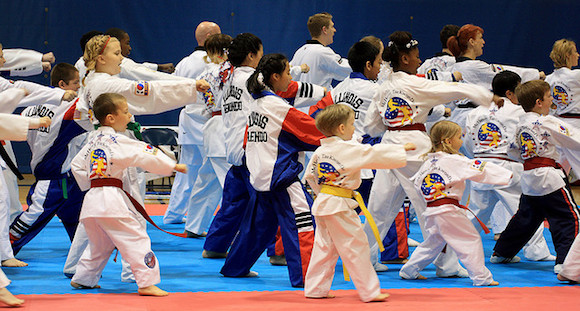 I was undefeated for the longest time and I felt like a king. I never lost, man. How cool is that? Worship me, inferior kickers.
Then one day I spar this kid and I lost my crown. We were in a circle and the rules dictated that you'd be disqualified if you stepped outside. Fair.
So we're exchanging kicks and this kid somehow manages to kick me in the freaking family jewels. I wasn't wearing a cup or anything so he got me right where it hurts.
Funny thing, I think the kid who kicked me in the jewels ended up going to my high school. Was it him? I'll never bring it up. Definitely he'll never bring it up, but damn it, I'll always suspect that guy.
3. I was a huge troublemaker.
I don't even know where to begin.
Most of the time it was getting in trouble for talking or not doing homework. You know, the usual classroom naughty boy behavior.
One memory stands out in particular. I had just transferred elementary schools and was still a new kid.
We had multiple teachers and I still recall what one of my history teachers said. I was doing the usual goofing off and distracting class when she told me, "Vincent, I'm so shocked. I've heard from all the other teachers that you were a very well-behaved kid with a lot of smarts. I guess they were wrong."
Ouch! I felt guilty for a split-second and I wanted to make it up to her. Of course, I was only around 10 at the time so I got over it and continued with whatever I was doing.
Looking back, I think she just called me dumb!
4. I was a perverted kid.
This guy was diiiiiirty.
One day my friends and I were decided to talk about adult websites. I still recall my first encounter with one of these sites, but that's a story for another day.
So as we're talking we let one of our acquaintances into our circle. Big mistake. He runs off and tells on us so we of course got in trouble.
It was as embarrassing as you'd imagine and my teachers would reference it all the time.
There was this one day I asked for help on a homework assignment told us to talk about what rules our family set in our house. I couldn't think of any because rules weren't exactly written out on a whiteboard.
I asked my teacher for help and she started listing out some. "Help do the dishes. Putting away your toys. Not going on bad websites."
Message received, Mrs. T!
5. I once stole a crayon from my teacher with no regrets.
I still remember this thing. It was a strange shade of blue, had white sparkles, and was barely visible when you actually used it. The beast looked beautiful but underperformed in every way.
I was heavily Christian growing up, so I kept picturing God in Heaven frowning and shaking his head at me. I was scared I'd go to Hell for stealing this crayon.
Well, I did it anyway and was so happy that I forgot about going to Hell. Kid logic.
My grandma threw it away about five minutes after I brought it home. Hope it was worth it, Past-Vincent because if I go to Hell for that…
6. I used to be a bully.
There was this kid who had it pretty bad. Let's call him K.
I'll be candid and say K wasn't the coolest kid around. He was a vulnerable target and we took advantage of that.
Now with K, we usually teased him and stopped it at there, but there was this one kid, G, who was nuts. Looking back, I think G had mental issues.
My buddy and I began to unleash G on this guy and made him chase K all around the school. They ran past my teacher and K cried out for help. Unfortunately, the teacher thought they were all just messing around.
Once they realized we were bullying K, they decided to hold a mock trial for all of us in front of our class. Final verdict? Three months of cleaning benches outside.
That wasn't an easy task. Those benches had bird crap on them everywhere and every day would have a new load of white.
I still feel terrible to this day about what we did to K. I make it a point to look him up on Facebook every year, but I still haven't been able to find him. I've messaged about five people with the same name as him and was mistaken each time.
Sorry, K.
7. I was gullible as a kid and got scammed tons of times.
My grandparents had bought me a necklace for good luck back when I was around 4 or 5. I wore this thing all the time and loved the crap out of it. It looked cool and made me feel cool.
Fast-forward to a day at the mall. I'm with my grandparents and they had their back turned. Some kid came up to me and offered me to trade my necklace for… Whatever it was he had. I don't even remember what he gave me. It was probably something worthless like his favorite pebble or something.
We made the trade and my necklace was gone. Imagine how much trouble I got from my grandparents.
The second instance of being scammed happened during a lunch break in elementary. We were still in the Pokemon cards phase back then and I traded a super rare card for a terrible one.
My uncles weren't too happy about that.
Damn it, Past-Vincent. Get your stuff together, man!
8. I'm an introvert.
This may come as surprising to you if you have the wrong definition of what an introvert really is. The common misconception is that all introverts hate socializing and they never talk.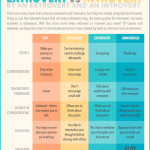 The easiest way to imagine what an introvert is really like is to think of them like batteries.
Extroverts gain energy by being around others. That's their way of charging.
Introverts, however, lose energy when they're around others. They charge their "batteries" by having time to themselves to process their thoughts and recover.
This means even introverts can be social butterflies, however, they don't gain energy by socializing the same way an extrovert would.
I love talking and meeting new people, but it takes a toll on me. I need downtime to recharge my batteries before I can start up again. On the bright side I absolutely love my personal "me time."
9. I'm Christian even though my mom's side is Buddhist and my dad's side is Catholic.
Kind of weird, but my family put me into a Christian school even though none of them were Christian. Who knows who I would have grown up to be without the experiences I had at that school?
The school instilled a good moral code in me and never pushed religion too heavily on me. Even though I've never really gone to church I still carry the faith and consider myself Christian.
10. I went to a private school from Pre-school until 5th grade.
My class was usually less then 35 kids so I was with a lot of the same people growing up. As a result, I wasn't exposed to too much diversity. When I moved schools I experienced a bit of a shock. (I've never seen so many different colors before!)
Starting over in a new environment was a humbling experience. I became shy and awkward. That took years to break out of.
11. I played games 24/7 and suddenly quit cold turkey.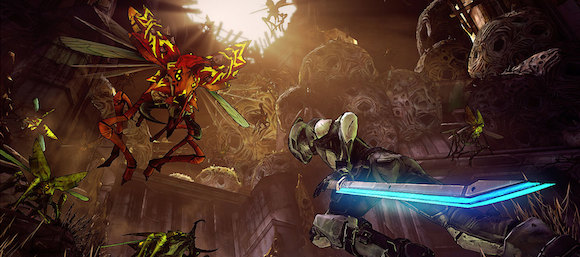 Gaming was my life and I rarely saw sunlight, but those were good times and I wouldn't trade them for anything. I'd do it again, baby!
Most of the games I played were online with my friends on our computers. We'd get up early, stay up late, and play all day when we could.
Then suddenly, I just decided to stop. No reason really. I didn't go through an existential moment where I felt like I had to stop. I just did.
Now when I play games again I get headaches because I'm not used to so much movement.
For those of you curious, here are the games that I remember playing a lot: Crazy Arcade (BnB,) Ragnarok Online, Lineage 2, Survival Project, Diablo, Call of Duty 4: Modern Warfare, Soldier Front, Skyrim, Borderlands 2, and League of Legends. I'm sure I'm missing a few.
12. I punched my uncle in the face out of anger when I was younger.
Whoa, does Vincent have an anger issue? Maybe. This was out of character for me.
I was sitting out in the living room watching tv with two of my uncles and my aunt. One of my uncles kept bugging me about something. I don't remember what it was but I do know that he kept at it for a long time and it got to me.
A lot of "shut up" was thrown around, but he kept pressing on. I just snapped. It happened so fast. I turned around and punched him right in the nose.
It was a pretty good punch too!
"If you broke my nose then I'm going to break your face!" That was his response and I was genuinely afraid he was going to kill me or something. I didn't want my face broken.
My aunt started yelling at me and my other uncle wanted to high-five me. That dramatic episode ended pretty soon after that.
My uncle and I are really close today. In fact, he's the one I trust the most in the family and I'm the one he trusts the most. We're like brothers. Hell, he's the only one in the family that knows about Self Stairway.
I like to bring up this story every now and then to tease him and we just laugh it off. Ah, good stuff.
13. I sing every chance I get.
This doesn't necessarily mean I'm any good. I've definitely gotten better, but I don't have that naturally pleasing voice when I sing.
Coincidentally, I ended my last summer vacation in California with some karaoke with my buddies. My last night in Arizona was a couple weeks ago and I also ended that night with karaoke.
Guess that shows how much I enjoy singing.
P.S. I will Skype with you and sing any song that you request for $10/song. It won't be pleasant for your ears, but at least you'll have something to embarrass me with!
Back when I played games with my friends I would sing on Skype and annoy them too. Good times!
14. I got my friend hooked on Yu-Gi-Oh after introducing him to Sports Club (then the guy dropped out of my English class shortly after.)
There's a building at my school called the Student Union. It's a lounge where you can go in there to play games and just relax. What most of the people in that building do is play a card game called Yu-Gi-Oh.
I brought my friend in to meet the Sports Club (which happens to meet in the Student Union) and that's when it all happened. My buddy walked in and his first reaction was "Whoa, people still play that?!"
Few days later and I notice that he's been spending a lot of time in that building. He even started playing the game with people in there too. Weeks pass and he dropped out of my English class. I have no idea if it's because of Yu-Gi-Oh.
15. I made it a goal to talk to at least 3 different strangers every day my first semester of college.
I had just moved from California to Arizona so I was eager to meet new people. I also figured it would teach me a few things. So there I was, talking to new people every day.
Doing this for a while made me realize people are really open to conversation. Sure, I was in a college environment which may make it easier, but people are usually friendly everywhere. Is that just an Arizona thing? I highly doubt it.
It was pretty cool being able to walk anywhere and run into someone you know. My friend from the Yu-Gi-Oh story above would run into me every day before class and mention how he always sees me with different people. You bet that was an ego boost.
I created a case study on someone who did this same thing. He took notes about the things he said to open conversations and the lessons he learned about how people respond to spontaneity. Check out the eBook to read the case study. It's easily one of the highlights of the eBook.
There's also a great challenge at the end of the case study that you can take a part of. I will personally keep you accountable with weekly emails to make sure you finish it. Yes, check it out. Now.
16. I nearly got dropped from a Calculus class my senior year.
There's a bit more to this story but I don't want to bore you with details. Basically, I never did anything in this class. Seriously, I would just sit there and talk or stare at the wall.
It wasn't too bad because I got a lot of thinking done. Hm, do I make school sound like prison?
This one particular day my teacher got upset at my usual staring at the wall doing nothing routine. He picked up the phone and called the counselor (the one in charge of class scheduling/the warden.)
We walked to her office together and I remember having a small conversation with him. I told him, "You know, this isn't personal. I'm just not a fan of classrooms. You're a good guy." He told me he doesn't take it personally but it just annoys the crap out of him.
We talked to the counselor to figure out how to handle this. He asked if she could remove me from the class and I was honestly okay with that, but for some reason she didn't want to drop me.
Ended up finishing that class with a C.
17. I pray in the shower.
Although I was always religious I never read the Bible on my own or attended church. Regardless, I still do my best to pray on a daily basis. I used to have long conversations in my head because I was taught that was a way to have conversations with God.
I don't really have those conversations anymore, but I still make it a point to pray. I ended up making a habit of praying right before I step out of the shower.
This may be too much information, but I feel guilty if I "aim for the drain" in a 3-minute window before or after praying.
18. I almost died during the summer of 2013.
I promised to not tell this story on the site since I made it an email list exclusive, so I'll be vague. My friends and I went on several hikes unprepared and ran out of food and water in a national park with no cell phone reception.
We didn't run into a single individual for five hours while we were out there and ended up having to literally run off a mountain when we saw a road. Never have I been so dehydrated, hungry, and afraid in my life. Oddly enough, I felt okay with the idea of death.
Lessons learned: always bring water, food, and a detailed map on hikes.
19. I get anxious when I'm late.
It's sort of crazy to claim that I'm always on time because that's far from the truth. I do hate being late though. I try my best to make it somewhere earlier than appointed to make sure I'm not late.
When I am late I start worrying because it just feels wrong.
20. I made a promise with an old friend of mine to visit Japan together in 2020.
My buddy and I were super into Anime back when we were kids. Most of those Animes came from Japan, so we wanted to go there and explore. We made a promise to each other that we'd visit Japan on my 26th birthday. Kind of a strangely specific choice, but alright.
I actually mentioned this story before in an article from May.
Another friend sent me a video recently about Japan and its weird culture. I… Don't think Japan is on my list anymore after watching that. See what I mean for yourself.
21. I got stranded at 3am in a parking lot because I left my truck's headlights on (like an idiot.)
This was during the summer of 2013. My friend was moving out of the state and so we all had a bonfire to celebrate her departure. After everyone left she and I decided to hang out a bit longer since I was the one dropping her off at home.
We drove into this parking lot and sat around talking for several hours. I was driving my grandpa's Chevrolet Avalanche truck and its headlights stay on automatically. I'm not the brightest guy when it comes to cars, so when we decided it was time to head home… My truck's engine was dead.
It was embarrassing. I had to call a bunch of people up to ask if they had jumper cables.
My friend who jumped the truck texted me telling me he thought I was setting him up to get mugged. He was paranoid because there were two trucks just sitting in an empty parking lot at 3 in the morning. Not sure what the deal with that second truck was, but that explains why he pulled in slowly once he got there. I still owe that guy a dinner.
22. I never drank more than 8oz of alcohol in my life.
Alcohol was never a big deal to me. I was never curious about it and never had the desire to drink. It's kind of irritating when other people insist regardless of how many times I say no.
My mom and her friend kept trying to get me to drink a beer. "Come on, we know you drink. I don't mind." My mom wouldn't believe me that I have never drank alcohol before.
The first time I drank actually happened after that. It was last summer when my buddy was going up to Berkeley for school. I told him I would have my first drink with him and several of my other close friends to celebrate a great summer and his departure.
I gave them the honors of choosing my first drink and we settled for Blue Moon. I couldn't handle more than a few ounces of the drink because it tasted horrible. Never again.
23. I paid my friend to slap me every time I went off-task while working.
Took this idea from Maneesh Sethi. I was having a hard time focusing on work so my productivity took a nosedive. I shot up a Facebook status offering to pay $8/hour to slap me every time I went off task.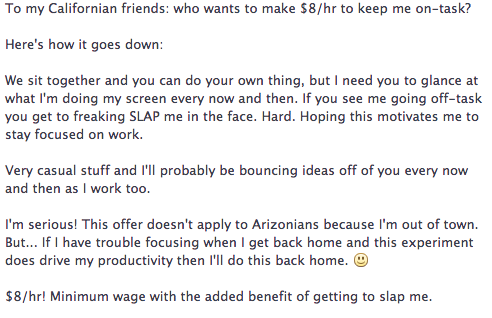 It worked really well! Without a doubt, this was the most fun productivity trick I've tried. The day I did this ended up costing me $20 since I also bought a drink, but I made that up with the work I got done that day.
Someone who works out of the collaborative workspace I interned at offered to do this for free. I stopped needing the slap motivator so I told him we'll meet November 3, 2033 at the same location and I'd let him slap me for free. It's on my Evernote and he wrote it into his calendar.
24. I used to hide in the restroom to avoid social contact.
Wow, can't believe I forgot about this. When I was younger, my grandparents would make me go to a Buddhist temple to learn Vietnamese. During breaks I would hide in the restroom for the entire time so I could avoid everyone. I'd bring my Playstation Portable (PSP) and play on it until the bell rang.
That's how awkward and asocial I used to be. Now you can use this information and blackmail me. You should combine this information with that singing proposal I told you about earlier.
25. I played tennis for at least four years and still suck.
Yup, started my first year of high school and still play on occasion today. I'm an inconsistent player with a miserable serve. It's a lot of fun and I'll be the first to admit I'm not good.
Speaking of Tennis, I think I have an issue with authority. I never got along with any of my coaches and even ended up leading a rebellion my first year of high school against the coaches. Good times.
On the bright side, I had a girl tell me during my first year of high school that I looked cool when I played tennis. Yay!
26. I wet the bed until I was at least 5.
Nothing much to add to this. I had a serious bladder issue as a kid. I recall a lot of nights where I had to wake someone up to do laundry for me.
Just for the record, I no longer wet the bed, so this can't be included in the blackmail package I'm basically setting up for you.
27. I don't read books too often.
I'm not one of those people who are proud to not read. Can you believe there are people who show off the fact that they don't read?
It's just a fact of who I am. I don't enjoy reading as much as most others, so I choose not to read. When I do, it's usually a non-fiction book like William B. Irvine's book on Stoicism.
Fiction just doesn't capture my attention. I blame school forcing that stuff on you. Boo, school!
28. I was offered money to sell Self Stairway.
I was at a coffee shop getting some work done with my friend when I got an email from someone offering to buy my site. We never got to the exact price because from the start I told him I wasn't interested in selling.
Couple months later when I did the "reaching out to millionaires to help me get my dream job" thing I met Neil Patel. We were talking on the phone and he was asking me a lot of questions about myself.
When I brought up Self Stairway he remembered that his buddy wanted to buy my website. Neil says he was actually going to give his friend the money to buy my site. Small world!
29. I still have no idea what I want to be "when I grow up."
Does anyone ever figure this one out? I'm not convinced that growing up is even a real thing. We're usually just children with adult responsibilities and a more grown body.
That aside, your mind will always wander and dream bigger regardless of what you're doing in the present. I'm okay with that. I'm fine with the not knowing because that makes life that much more interesting.
30. I often worry that I'm not good enough.
Every time I finish an article on Self Stairway my heart starts hurting a bit. I'm afraid of how you will respond to what I have to say. I anticipate criticism from an unhappy email. It's terrifying and sometimes I want to hit delete.
It's scary because I have no idea if I'm good enough when I write for you. I'm affecting lives and changing the way people think. How do I know if I'm in the right?
Then I remind myself that none of us know everything. I'm writing from my own personal experiences and about what works for me. Isn't that good enough? There will be people who disagree and tear you apart no matter what you do. That's just a part of the process.
So there. Now you know more about me. Who cares if it's a bit messy and unorganized? This list is meant to be a little lighthearted and different. It's good enough.
How about you?
Share something about yourself in the comments below. What doesn't the world know about you?
Photo Credit: EzykronHD – Wikimedia Commons, Kristina Zuidema – Flickr, and Debs & Errol