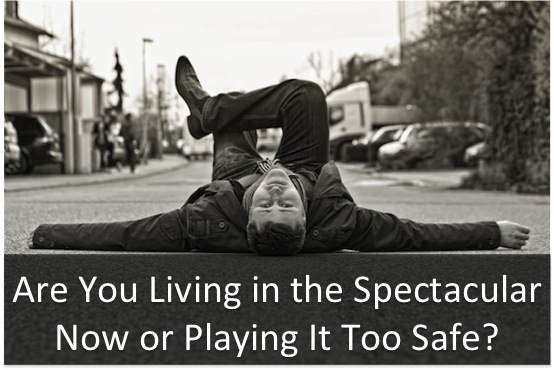 My friends and I drove for an hour to watch The Spectacular Now in Los Angeles two weeks ago. I'm not trying to sell you this movie, but I really connected with the protagonist and it got me thinking a lot. That's something most movies don't really do to me, at least not on this level.
It made me question what it meant to be enjoying the present versus failing to plan for the future. Then I thought about what happens when you try to fix someone, an issue I know all too well.
Where People Mess Up Carpe Diem
Living in the now can be very liberating for an individual that's been living all his or her life with the mindset that you should always be careful, thinking 10 steps ahead.
Yes, foresight will get you far, but it can also drive you insane. It will make you more risk-averse than what's healthy, not to mention you're not going to be living a very exciting life. Sure, you won't be dead, but I don't think you'd be living either.
When it comes to sayings like carpe diem (seize the day,) people like to choose sides and they flock to the extremes.
Living in the now becomes acting reckless and endangering yourself or others. Opponents of the phrase will play life a bit too safe.
How do you find that happy middle? The area where you're enjoying the present moment and each opportunity that presents itself while still maintaining clear sight of what's ahead. The place you want to be so you can avoid being called boring while still being the life of the party.
It's hard getting there.
Playing It Too Safe
I grew up playing it safe, only with a minor sprinkle of recklessness, but I assume that's because I was a kid who didn't understand the concept of safety. I still remember one specific instance from my childhood. It's something I can still close my eyes and see clearly.
I was on a slide and decided to lie down with my legs off to the side, or something like that. I fell off the slide at its apex and I still recall how the world looked as I spun a full 360 before landing on my back. The sky suddenly became the ground, dirt became what was above me, and suddenly I saw the sky again.
Whoops.
Despite my minor incident, I played it safe most of the time. I wouldn't dare speak my mind against someone who was older than me out of fear of the consequences. Respect your elders get drilled in our heads a lot, but I never believed in it. I experienced first-hand from a young age how often adults could be wrong. A lot of people will disagree with me on this, but that's okay.
At this point I should make note that "respect your elders" meant adults could never be wrong, so you couldn't talk back. You should be respectful towards everyone, but people often took advantage of the adage so they can oppress and absolve themselves of responsibility.
Outside was a mask I wore at all times because I thought it was the worst sin to speak up even when you know someone's wrong. So, I kept it in all in. I played it safe. This made me "live" in my head where I wasn't really in-tune with what was going on at any given moment. My mind would be fixated on what had already happened or thinking about what could go wrong later.
I'd be constantly thinking about how I was wronged for wanting to speak up but never afforded the chance. This is where my insecurities grew.
Living in the Spectacular Now
Then high school came and I suddenly found myself tired of being afraid. I feared what others thought of me. I feared how my actions could lead to consequences. I feared what'd happen if I spoke my mind. I became tired of living in my head.
So I decided to adopt a live in the moment attitude. Homework would get blown off for instant gratification. I would say things out loud without caring who heard me because hey, not my problem. Someone older than me was blatantly wrong? Screw that! I'm going passive aggressive style or I'll let them know outright.
Feeling were hurt, bridges were burned.
Then I'd challenge my own mortality. I would be on a bike and do the most insane things without considering how close cars came to hitting me multiple times. One time I got hit by a car when I decided to take the cross street during a red light (I was in the wrong.)
The guy was scared for his life, a girl who saw from the other side of the street screamed, and the whole street went silent with no one daring to move their car. Good thing he was going less than 20 miles per hour. I just waved at him and told him it's alright, it was my fault, etc. and then I walked my bike off the road.
I still shake my head and wonder what was going through my head.
Somehow I had survived up until this point. I was still fixated on living in the now, the spectacular now. Did I really care if I were to die?
It's really difficult to convey just how little I cared about everything. The now. The present. Live in the now. That's all I worried about. I had slipped too far.
Looking back, I believe I had been living in the moment so I could be selfish, toss my hands in the air, and say, "It's not my fault. I'm just seizing the day," effectively avoiding responsibility for my actions.
Yes, I will admit it all worked out in the end. I'm still alive. Most of my issues with others I worked out. I abandoned the 100% live in the moment attitude and started running towards the middle of the spectrum.
The Consequences You Never See Coming
But most people aren't so lucky when they try to live in the spectacular now. You start buying into your own bullshit stories when you seize the day, every day and these things become a part of who you are. You forget what's true and you change. Then you start telling yourself "I don't give a fuck" when you really should give one or two.
Remember that phrase? IDGAF. It can work, like I've pointed out before, but it's easy to delude yourself when you start using that phrase for the wrong things (like things you know matter in the long-run.)
Another side effect of living in the moment that still sticks with me today comes when I'm saying goodbye. I'm… Too good at it. It doesn't faze me. I'm so used to it. So numb to the feeling (or rather, the lack of.)
I love all my friends and family to death, but it never hurts me to say goodbye. I rarely linger on it. Maybe I'm too rational because I know I'll see everyone again in a few short months, but I know that may not always be true. It's been like that for years now so saying bye really becomes easy. I'm used to moving between different places and every few months which means saying goodbye to family and friends over and over again.
Detachment can be lonely on the inside. You can't tell looking on from the outside because all you'd see is a person having fun. I'm taking these people for granted, you know.
I said goodbye to four of my close friends last night at 2am. We had just gotten back from karaoke. I didn't think about how the next night I'd be on a plane and not see them for another 4 months.
So I left that car with a casual "see you guys later" and a smile. On my mind during that time was "Wow, that was fun! Time to check some emails, maybe catch an episode of Friends and go to bed. This was a good night." An outside observer would make the assumption that I don't care about goodbyes. That's not so.
Last time I was in town, back in December, my friends asked me what I wanted to do as my final hurrah. I told them I wanted to treat it like any other day. We're not saying bye because as far as I'm concerned, we're just having a good time right now.
Today, I'm sitting here writing this instead of having one final goodbye with my best friends. I love all of them a lot, but yet, I'm not reaching for my phone right now to have a final hurrah to end an already perfect summer.
Actually, this summer was quite groundbreaking. I had one goodbye that actually got to me on the emotional level. I'm slowly unlearning all that carpe diem stuff and veering more toward the middle. I kept reflecting on the past and how amazing our adventures were.
As I was writing this I just got two goodbye texts from some of my close friends that I hadn't seen in the last few days. I felt an emotional "ouch." Maybe I'm getting closer to the middle than I thought.
Anyway, I strayed off topic.
You were expecting me to tell you how I figured it all out, huh? How I learned to find that happy middle between living in the present and understanding how to plan for ahead. How I realized that goodbyes should be emotional and that perhaps me being so uninvested in farewells is wrong. Things could change, you know? There are no guarantees you'll see someone again.
The truth about this whole balancing thing is that I still don't know. Just as much as how I don't know if I'm only detached because I fear I may lose the ones I care about. I don't think that's the case, but maybe I'm buying into my own story. What do you think?
I don't think any of us really have our balancing acts figured out. We all swing too much towards either side. We're still figuring this all out as we go along. Some people may look like they're perfectly in the center of the spectrum, but they know that's not true.
But hey, I'm much better at balancing now, I promise. I'm closer towards that middle, although still more towards the left. It was a big deal for me to feel an emotional yearning when saying goodbye. There are still a lot of byes I should give out today, but I won't. I'm just going to relish the spectacular now while I can.
I'm trying to get something important across to you. Can you feel it?
I'm telling you we're all people trying to find that happy middle between balancing the spectacular now and playing it safe. You may not have realized—and I hope I demonstrated it well enough with my own stories—that veering to either side leads to a huge snowball effect on other parts of your life. You're going to have to unlearn a lot of what you thought you had figured out before. For me, it took me a long time to realize I was using carpe diem as a shield against responsibility.
I'm also hoping that you would stop worrying so much. Get out of your head. We're all struggling. That's a part of the human experience, but it shouldn't swallow you. Cheer up. The middle is so much better than either ends anyway.