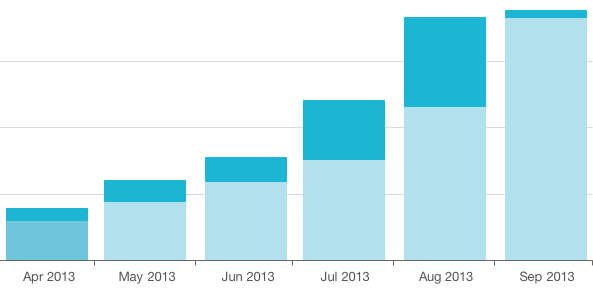 The Power of a Single Variable
Conversion Rate Optimization, or CRO, is the practice of finding ways to increase the effectiveness of a specific goal. It is usually applied in marketing and it is something I used to exponentially grow my blog. Going from 30 new members each month to 150 all the way to 260 per month didn't happen by accident. By the end of next month, I should be breaking 1,000 members total. That's something that not very many websites see.
I recently realized the principles of CRO apply in self-improvement. First, you're going to need to know what it is. Don't worry I'll try to avoid using jargon and I won't dive into the complicated areas.
Here's a quick example of the basics.
If I were to write an article for The Huffington Post, they may allow me to link to Self Stairway in the author byline. For the link, I wouldn't want them to be sent to the homepage. If I did that then a small percentage of them would scroll a bit, maybe read a few articles, then leave. The majority would leave almost immediately. That's just how it works.
My main goal would be to convert these casual visitors into long-term subscribers that will come back. Ideally, I'd do this by getting them to join my email list through what is called a "landing page."
On this page, I would have an area for them to subscribe. That alone isn't enough. I'd draw in knowledge from what has worked in the past in similar niches, figure out what can be improved, and make sure the amount of people who subscribe increases. So my goal is to get that number up.
To reach that goal, I'd apply what I know about human psychology—something that plays a large role in how you optimize—by minimizing distractions, make it clear what I want them to do, and play with tons of different variables.
That's where it gets interesting. The variables. There could be one small change or 100. You change a single item and it could be the difference between 1% of visitors signing up and 50%. You can change things like the position of a picture or even just a single word and you can be dramatically improving the results you see or seeing a plummet. It's rarely as simple as that, but they're basic examples and are easier to visualize.
It's not that easy in reality though. You're lucky if something as simple as moving a picture gives you a large positive change.
It gets more complicated when you remember that behavior is almost never consistent. Something that works for one site doesn't mean another site copying the same formula would benefit. In fact, mimicking could make numbers go down just because there are several factors that differentiate the two.
This is why testing is so important in CRO.
"Cool, but what does CRO have to do with self-improvement?"
Here come the connections. First, just like CRO, no advice or change in a variable is universal. Something that may work for one person may not help you. There are an infinite amount of complexities that affect how things unfold for you.
Second, one small change may end up being the defining factor, but you'll never know until you implement and track the results, so always be testing.
Third, life is rarely as simple as changing just one small thing. It is possible, but you shouldn't count on one golden formula. It may end up being a large combination of different things.
Today I will make it easy for you. I'm going to give you 48 variables, ranging from confidence to becoming more physically attractive, so you can see what works. None of these can really hurt you, so you have nothing to lose.
12 Variables for Building Confidence
Give everyone you walk by a high five or hug.
Practice a warm-up "I'm confident" dance before you head out the door.
Slap yourself every time you doubt yourself.
Tell a random person you want their number.
Slap yourself in front of a stranger for no reason.
Some of these variables are obvious, others are conventional, and the last few will make you squirm. Try them all out for a while and see if any will leave a lasting effect. The majority of them force you out of your comfort zone. Maybe that's the variable you need.
12 Variables for Building Happiness
The 12 points above were inspired by "The How of Happiness: A New Approach to Getting the Life You Want," by Sonja Lyubomirsky.
12 Variables for Improving Your Socializing Skills and Making Friends
Go out every day.
Ask your best friends for advice.
Hang out with socialites and observe.
Try nodding on occasion during a conversation.
Talk slower.
12 Variables for Improving Your Physical Appearance
Go to a professional hairstylist (you can take a picture and show it to cheaper stylists for future cuts.)
Experiment with colors you wouldn't normally wear.
Learn the basics of how to match colors (not every single rule needs to be followed.)
Try an accessory that you wouldn't normally wear (like a watch.)
Part your hair the opposite direction.
Hit the gym (males and females.)
Track your diet (based on your goals.)
Have fun with everything you do.
Smile more often.
There are 48 different things you can try, minus a few repeats that crossed over to the other categories. There's no excuse as to why you can't test at least ONE of these variables.
Please don't read every single item up there and call it a day. You have to implement what you read, otherwise, you won't see any results.
Did you find value or feel inspired by the variables above? Join my community and get weekly quick tips every Tuesday. Each week is different and they're more detailed.
Added bonus: You get my soon-to-come eBook on charisma and confidence available only to members. Sign up and get everything for free below!