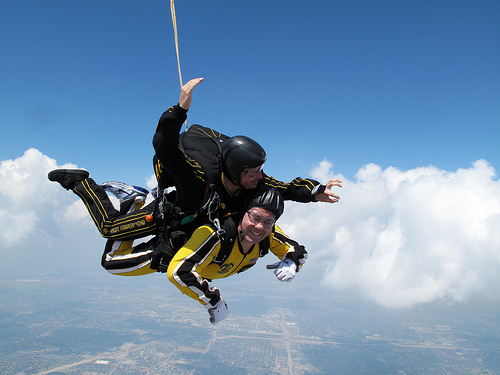 This article was written by Dan Erickson. Please comment at the end of this article to let him know your thoughts!
When I was younger I did crazy stuff.  I drove too fast.  I partied too much.  I hitch-hiked around the Northwest and rode with strangers.  You might think I was living dangerously, but nope.  I was being stupid.
I didn't learn how to live dangerously until a few years ago.  It took me more than 20 years to learn what living dangerously really means.
Back when I lived the stupid life, I worried about what others thought about me.  I worried about my image.  I had to have the right clothes, drive the right car, (when I had one), and I had to use the right words.
I was being too careful.  I cared too much about my own reputation among the cool crowd.  Now I couldn't care less.  Although I'm done with the stupid stuff, I'm living more dangerously than ever and loving it.  
Living dangerously has set me free from the expectations of others. 
It's great and you can learn to live dangerously too.  Here's how to live life without the need to impress others:
Learn the rules then learn how and when to break them
You've all heard the old saying, "You have to learn the rules before you can break them."
You should have a solid grasp on the rules to the game you're playing before stepping outside of the boundaries.  Once you understand the rules, don't be afraid to tweak them, change them, and even directly oppose them if you see a way to play a better game.
Some of the most successful entrepreneurs in history have succeeded, not because they've followed the crowd, but because they dared to divert themselves from popular beliefs.
Live for yourself, not for others
Okay, this might sound self-centered at first, but let me explain.
Many people spend their lives trying to please everyone but himself.  This is admirable, but impossible and can lead to a very discontent life.
As a writer, I've learned that if you worry about pleasing everyone else with your words, you'll likely never write a word.
I'm not saying we should never consider our audience.  I am saying is that we should have the guts to say what we feel.
We should be willing to go out on a limb and stand out from the crowd rather than trying to be another cheap imitation.
Don't be afraid to be real and let your true inner-genius show.  You are a genius. We all are in one way or another.
Get off of your high horse
For many of us, when we're young we think we're pretty cool.  We walk the walk, talk the talk, and strut like a rooster, (or wiggle like a hen).  But as we grow older something happens.
We get knocked back a few times.
We shouldn't be afraid to get back up, but we should learn lessons from our mistakes.  Time should teach us humility, not submission.
One night about a year ago, I was driving through town in my base-model Volkswagon Jetta.  Some young kids pulled up next to me in their tricked-out Honda, big bass thumping, rapper rapping. They looked over at me and bobbed their ball-capped heads up and down while giving my their best "we're cool" look.
But I saw something in their eyes: uncertainty.  These young men were uncertain of themselves, insecure.  They had to put on an act to attempt to impress those around them.
They were so busy chasing cool that they didn't recognize that they were no longer themselves, but simply a reflection of what society told them they were supposed to be.  Rather than cool, they had become self-conscious and uptight.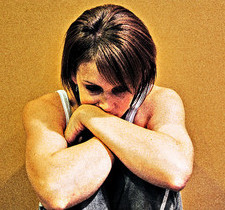 I wasn't much different than these young men.
I spent thirty years of my life chasing cool and nearly another twenty more letting go of society's expectations of me.
It's only been in the last five years that I've come to realize that it's not proving ourselves to others that make us cool.  It's being secure in our self that brings us to that place.
If we stop acting like we're the stuff, we actually begin to become something unique.  We find our individual voice within the noise and a healthy combination of humility and transparency will actually get noticed.
Be careless
Living dangerously means being careless.  I'm not talking about being sloppy or inconsiderate.
Remember, we learned the rules at the start of the game.  Don't forget those rules.  But don't let others rule over you.
Don't allow others' comments, opinions, or insults stop you from chasing your own dreams.  Be willing to accept constructive criticism. Do your best to create quality work, but don't hold out for perfection. 
Most likely, no one else is looking at you through a microscope.  You've only been trained by society to believe they are. Everyone else has the same fear that you are silently judging him too. You probably aren't and even if you were it was just a fleeting thought you would forget five minutes later.
Lighten up and let go of your preconceived ideas about what others think.  When it comes to how you believe others see you, be careless and learn to live dangerously.
Questions: Have you learned to let go of society's preconceived image of you?  Do you know how to live dangerously?
Photo Credits: Scott Ellis, SashaW