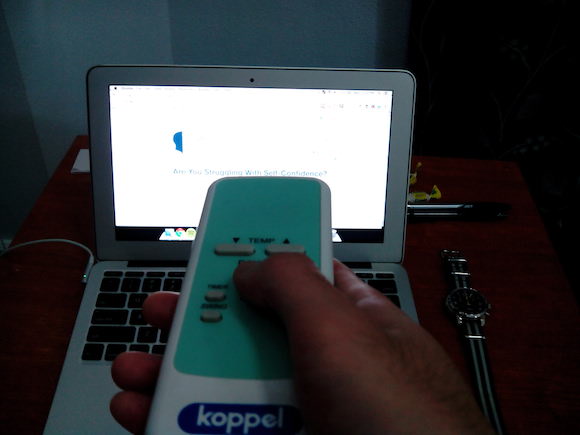 Silly as I am, I packed merely a week and a half's worth of clothes when I moved to the Philippines. One small duffel bag later, my room in Arizona still looks like I live there, as over 90% of my wardrobe sits untouched (and probably dusty.)
I miss having my clothes. I'm a clothes kind of guy, but I abandoned that when I came over here, expecting that the scorching humid weather would force me to wear only basketball shorts and t-shirts when I go out. My nice chinos, dark denim jeans, and rolled up long-sleeve shirts didn't make the journey overseas with me and now I miss them.
So I decided to go clothes shopping to fix this laundry problem (having to wash all your clothes every few days isn't fun.)
You're going to bet that I'm about to complain about how I couldn't find the brands I wanted, right? Oh, woe is me! The lack of control!
No, I've actually come to terms with that. What happened while shopping was even more irritating than being a drama king about labels.
Dealing with others' inefficiency
Imagine you go to a store to buy jeans and ask for a certain size. "28×30 in slim straight, please!"
The nice employee maneuvers around the piles of boxes littering the entire store, which oddly enough, reminds you of the day your parents moved houses. She reaches for a random pair and comes back to you with a smile, "Here, sir."
Hm, 30×32 in regular fit? That's not what you asked for. "Can you get me 28×30 in slim straight?"
"Just take it," she insists. Okay… No. You know what you want and that pair simply won't fit.
You ask her to try again over and over as she gives you the same pair of jeans you didn't ask for. The employee looks at you like you're crazy. Why don't you just take the pair, go away, and let her get back to chatting with her coworkers?
After the 10th attempt of getting her to just take a look at the tag before reaching for a pair of jeans, you tell your friend that you're leaving before you erupt in a volcano of boiling rage.
Now that's exactly what happened to me when I was shopping for jeans.
Being an uptight control freak (something I'm still working on,) I get frustrated when things don't go my way.
People behaving the way I expect them to? Perfect!
Being praised at work for a job well done? Yeah, baby!
Philippines McDonalds has change for 1000 PHP, the equivalent of a twenty-dollar bill? I'm on top of the world!
But… Expecting things to always go smoothly is crazy, even more so when you're in a country that doesn't mind inefficiency. This place really opened my eyes to how lacking I am in the "let it go" department.
Which is why I remind myself that you can't always have everyone act the way you'd expect, regardless of whether or not they're being irrational.
Having things around you act outside of your control is a normal part of life. You won't be able to manipulate every variable. That sucks if you're uptight with a thirst for control like I am, but what can you do about it?
Doctor's prescription
You laugh it off.
Save for the serious situations that actually impact your life, the little things that frustrate you, like shopping for jeans, shouldn't put a damper on the rest of your week. Laugh at the absurdity, laugh at how big the universe is, and laugh at the fact that your face is getting redder with rage.
That whole jeans fiasco would have kept me upset for days if it happened to me about 4 months ago. Now? I look at it like a funny story only hours after it happened. "Oh, Philippines! You so crazy!"
It's all outside my control. If I had my way, everything would be efficient. Things would be so neat. But don't you think life would be boring that way? There wouldn't be any surprises.
The Stoics really did get it right (contrary to their dictionary definition.) Stoicism says to separate events into things you can control and things you have absolutely zero control over.
You're in a predicament of the former? Sweet! Control that until the cows come home.
You're in the latter? Laugh it off. I don't think the Stoics specifically prescribed a dose of "laugh it off," but hey, welcome to 2014.
Go forth, fill your belly with air, and release a hearty chuckle.