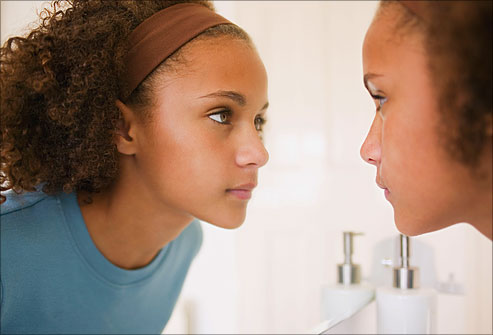 One of the best ways I cheer myself up is by talking to myself like a stereotypical comedy where the main character is talking to the mirror, hyping himself up for a date. That's my secret when people ask me to share my methods on how to cheer yourself up.
Every so often I would have these periods of sadness where I'd be beating myself up, feeling sorry for myself, and feeling like I'm alone. Sound familiar? I'm willing to bet many of you have had this happen often as well.
Feeling better about yourself is pretty hard at times like these. Why? It's because these moments are random and are created by your head through over-thinking. Notice how the three points I mentioned above are feelings that are created from the inside. There's no external influences that give me proof I should feel that way.
So how do I deal with these tough storms when the waves are pushing me further away from the coast? I talk to myself by pacing around the rooms, using hand gestures, and talking in the third person.
If you want to learn how to cheer yourself up, you wouldn't worry about how ridiculous you sound or look. You'd take the time to talk to yourself about:
Why you're amazing
"Vincent, what the hell are you doing? You've got a great life. You've grown so much in just the past two years alone, made progress that people would struggle to make in years, and you can approach any beautiful woman you want with sure confidence and get a number (or get shot down without caring.) Plus, you've got a love of life that people often lose somewhere along the way."
How could you be sad when you tell yourself exactly what you have in life?
Perhaps there are people who aren't as fortunate as I am and without a doubt, you're reading this wondering if this applies to you. It does apply to you.
Find something amazing about yourself and congratulate yourself. Everyone has at least a few.
Maybe you have a great sense of humor. Awesome, now tell yourself that. You managed to look at a stranger in the eye today when several years ago you were afraid of the smallest exchange? Sweet! You're awesome!
There's something amazing about you, just dig deep enough to find it.
If you don't feel like there is anything amazing about you then get out there and create some memories. This involves stepping out of your comfort zone but there are so many things you can learn NOW so you can look back and say, "Yeah, I'm amazing."
Don't know? Well here's a list of traits that are absolutely important yet many people lack.
Building confidence, learning to talk to strangers, maintaining eye contact, remembering good posture, practicing active listening, and getting out of your own head.
Master any one of these and you'll have something worth praising yourself for.
The things you have
"You've got it easy in college, you've got great friends, Self Stairway, your internships, your work as a content marketer, and so much more. You're brilliant and confident. You exude this aura of magnetism not many people you know can claim to be able to do the same. Most importantly, you've got the knowledge that self-improvement is a constant work-in-progress." 
Just recently, I was having a bit of a struggle going on inside. I was feeling like crap and it wasn't something I could share with a lot of my friends. It was also something that my head was manufacturing and only existed in my head.
So I began to talk with myself, remembering aloud that I have more than enough.
Then I reminded myself of what many of my close friends are lacking or the troubles they faced in recent years. Some have had parents split apart, family members pass away, and many are still struggling to find their place in the world.
I am fortunate enough to not have to go through any of that. What gives me the right to be sad?
Do the same. Talk to yourself in the third-person and use your own name like you're scolding yourself. Remind yourself what you already have.
The future-you will be okay
"Why are you so hung up on this right now, Vincent? You know, you're going to be okay 10 months from now. So is it worth beating yourself up right now? You've gone through this before and you've come out on the other side. Same thing here."
This is one of the most effective parts of the self-talk. During the pacing around the house, I try to project the future of my mood, my feelings, my thoughts, and everything else.
Is it going to matter 10 minutes from now? 10 months? 10 years?
If I'm going to be okay several months along the line, it's probably an issue not worth hanging onto.
Right now, I'm sort of sad that it's been a long time since I felt truly attracted to a girl beyond her looks alone. Isn't that a silly thing to think about? It's crazy to be hung up on the fact that I'm… What? Independent? Happy?
I'm sad over a feeling (or lack of) that others would be glad to have control over. I should be grateful that I work so well on my own.
Yet, I allowed my brain to overanalyze and sort of force myself to fall for someone, only to fall back out after a week. My brain was telling me there's something wrong. Shouldn't I be attached to someone?
Talking to myself and asking myself if I'd still be worrying about something so silly 10 months from now allows me to snap out of it. Hell, I'll meet the girl I inevitably fall hard for eventually. Until then, I keep working on myself because I know I won't be worrying about this several weeks from now.
Last time you felt this way (and survived)
 "Hey, Vincent, you smug bastard. Don't you remember the last time you went through these exact thought processes? Dude, you got through all that. Don't you remember? You got through it all then came out even better. Guess what? The same thing will happen soon."
Your head has a way of creating problems that aren't real. If this happens to you now, chances are it had happened many times before.
If that is the case then that means you've survived the last storm of negative emotions. How'd you manage that?
You could have felt the world was going to end on you, yet here you are. So why not remember the last time you felt like it was all over?
You got through it and I am betting you'll do it again.
Seriously, this just seems ridiculous, but talking to yourself is a great way to kick yourself out of a rut. Perhaps it won't be enough to get you over something as tragic as your pet dying, but this will get you through those moments of sadness that seem to come from nowhere.
Question: How do you cheer yourself up when you're feeling down?