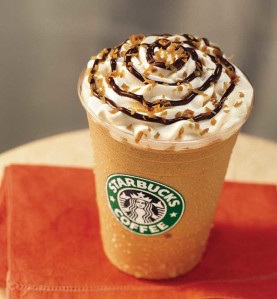 Starbucks for me has always been an amazing place of excitement. The atmosphere always felt just right for not only the high school and college crowd, but also young adults, and even people of business. I love walking to Starbucks or even Coffee Bean on any given day with a friend or two just so we can enjoy a quick ice cold Frappuccino. Then we'd excitedly sit down on the not too flashy black chairs and just converse on any topic. It was the simple things.
There's something about the aura that makes you want to open up more. Not to mention the fact that there's a sort of pop culture image of the intellectual or soulful tortured artist that ties in with the coffee shop scene. This image makes you feel like you are indeed an intellectual, taking part in an ancient tradition that may lead back to the great philosophers of Greece themselves.
When some people think of Starbucks, some terms may pop into their head. Maybe one person may shout out "overpriced", the moment the coffee behemoth is mentioned. A more snobby critique would be "hipster", and maybe put more kindly "lame". It has an interestingly negative reputation, as all companies seem to once they dominate a certain market (think Walmart vs. small, local businesses).
Quite honestly though, the whole coffee shop scene that have swept across the states in recent years opens up a lot of amazing opportunities, for example:
Socializing
Other than the obvious promise of free wi-fi and in most places, no coercion to buying a drink to stay, it can be used as a place to meet new people. In an open environment like Starbucks, you almost feel like you're part of the same group; no one will scoff at the guy striking up conversation.
I'm not saying you're going to form entire social circles that roam local Starbucks looking to expand their territorial gangs, but don't be afraid to mingle with both males and females who enjoy frequenting the same locations as you.
Encourages productivity
In my case, I joke with my friends that I use Starbucks to appear as the soulful, tortured writer who is just trying to make his name in the world.  Absurd imagery or not, I can't lie and say that I don't feel strangely empowered when I have my laptop out at Starbucks, typing furiously to produce a new article, while simultaneously gulping down my Grande Green Tea Frappuccino with a water cup on the side. The environmental change of just not working from the usual places lends you the encouragement to churn out material.
Makes you feel more open with friends
My favorite side effect of the coffee shop experience has to be the bond between friends that it seems to strengthen. One of my now closest buddies, my mentor, admittedly wasn't too buddy-buddy with me until a little over a year ago. Sure, we had the same mutual friends, played the same sports, shared some common interests, but it really wasn't until one day we spontaneously decided on heading to Starbucks to do homework that we clicked.
We didn't plan on talking about philosophy, business, women, etc. After all, none of these subjects were ever touched upon until we set foot into our first Starbucks meet-up. But man, once we sat down, we knew we were on to a new ritual that demanded to be respected at least weekly. Without this ritual, we'd go insane.
If you haven't given the coffee shop experiment a chance, be confident that you can do it solo or with friends. It's going to be very different if you choose one or the other but both are equally enjoyable. Put on your creative caps and slurp down a Frappuccino, making sure to bring your laptop charger because trust me, there is just something about actually sitting down to enjoy the setting that just feels right. Share in the comments your thoughts on the whole coffee scene or even give us an idea of where you work. Don't forget to subscribe for new article alerts at the very top!